Princess praises signallers for work in Afghanistan
Soldiers who helped keep the Army's communications running during 16 Air Assault Brigade's deployment to Afghanistan were praised yesterday for their 'courage, determination and adaptability' by Her Royal Highness The Princess Royal.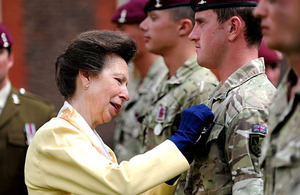 Following their recent six-month tour in Helmand province, soldiers from 216 (Parachute) Signal Squadron were presented with their Operational Service Medals at the Royal Hospital Chelsea yesterday, Thursday 2 June 2011.
150 soldiers from the squadron paraded, with 87 who completed their first tour of Afghanistan receiving their campaign medals from the Princess, who is Colonel-in-Chief of the Royal Corps of Signals.
Her Royal Highness said:
It is a real pleasure and honour to present medals to you. In Afghanistan you turned your skills to a wide variety of roles presenting unique challenges, which you have faced with courage, determination and adaptability.
Before the medal parade, a thanksgiving service was held to mark the squadron's return and honour the memory of Corporal Steven Dunn, who was killed in action during the tour.
Major Alistair Fawcett, Officer Commanding 216 (Parachute) Signal Squadron, said:
I am massively proud of what the squadron achieved in Afghanistan, although that is tinged with the sadness of losing Corporal Dunn.
Wherever ISAF troops were based in Helmand our signallers were working in support of them, ensuring they had the communications needed to do their job. Some of our soldiers have been to Afghanistan before, but many were young guys and girls on their first tours and they have all stepped up to the plate and earned their medals.
This parade is about joining with our families to celebrate our achievements and at the same time honour Corporal Dunn's memory.
Among soldiers receiving medals was Signaller Nathan McInnes from Rochdale. The 21-year-old was attached to 3rd Battalion The Parachute Regiment in Nad 'Ali (North). He said:
It was a proud moment to be on parade in front of my family to receive my campaign medal. Afghanistan was a tough tour but it was what I expected and I enjoyed it.
I was out on patrol with the infantry a lot, keeping them in touch so they could do their job. We were involved in a lot of contacts, but all the training we had done prepared me to do what was needed.
216 (Parachute) Signal Squadron is 16 Air Assault Brigade's specialist communications unit, focusing on radio and computer links between soldiers and commanders. The unit was involved in a range of roles in Afghanistan, from signallers working with infantry in forward operating bases across Helmand, to running communications at the Task Force Helmand Headquarters in Lashkar Gah. Specialist training was also given to Afghan National Army and Afghan National Police units.
Corporal Steven Dunn was killed when the vehicle he was travelling in hit an IED on 21 December 2010.
Published 3 June 2011