Prince William completes his first SAR shift
Flight Lieutenant William Wales completed his first Search and Rescue (SAR) shift this weekend as the co-pilot of the four-man crew of a RAF Sea King helicopter and performed his first rescue.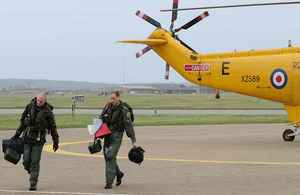 The helicopter, call-sign 'Rescue 122', was from C Flight, 22 Squadron, which is based at RAF Valley on Anglesey, North Wales.
The SAR crew of 'Rescue 122' was scrambled at 1411hrs on Saturday 2 October 2010 and tasked by the UK Aeronautical Rescue Coordination Centre to retrieve a seriously-ill crewman from an accommodation rig next to a gas production platform in Morecambe Bay.
The RAF winchman quickly assessed the sick crewman's medical condition and he was transferred to the waiting Sea King helicopter which took off at 1450hrs, taking ten minutes to complete a short, over-water flight before reaching a helicopter landing site at 1500hrs.
The ill crewman was immediately transferred to the care of a waiting ambulance crew and taken on a short road journey to a nearby hospital.
Weather conditions were described by the Sea King's crew as being: 'squally winds, which produced some moderate turbulence around the rig's helicopter landing platform.'
Flt Lt Wales will spend three years as a front line Search and Rescue pilot for the Royal Air Force.
Published 5 October 2010