Prince Seeiso Bereng Seeiso on education in Britain
In a short film launched today, the Lesotho-born Prince talks about his experiences living in Britain, and discusses the UK's open society and education opportunities.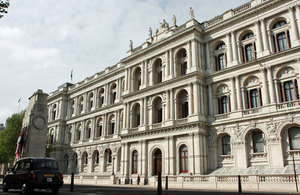 The film is one in a series featuring individuals from home and abroad talking about their experiences of modern Britain in the run up to the London 2012 Olympic and Paralympic Games.
Born in Lesotho in 1966, Prince Seeiso Bereng Seeiso came to Britain in 1975 to study. He is the younger brother of Lesotho's king, Letsie III, and is also the Lesotho High Commissioner to the United Kingdom. He is co-founder, along with Prince Harry, of Sentebale, a charity supporting organisations working with Lesotho's disadvantaged young people and children, such as those orphaned as a result of HIV and AIDS. Watch his short film below.
Prince Seeiso Bereng Seeiso on education in Britain
As Prince Seeiso explains in his short film, he was amazed as a child by the scenes of the countryside and the architecture when he first arrived, and enjoyed his education in Britain, having a very welcoming and positive experience here. He talks of the UK's warm and inviting society, where culture and history are deeply embedded. According to Prince Seeiso, the people who take a step in, and seek to find out what it is really like, will see a welcoming and friendly Britain.
In April 2006, Prince Seeiso joined with Prince Harry of Wales to found Sentebale (meaning forget-me-not), a charity devoted to supporting voluntary, grass-roots community services and projects. Working in four key streams - care, health, education and special needs - the charity assists these organisations to develop better management techniques in order to enhance the support they are able to provide to people in their care. Both Princes have pledged a lifetime commitment to the charity and plan an active role in its activities.
Earlier this year, Prince Seeiso received Diplomat of the Year from Africa Award, from the Diplomat Magazine. He is also a Chevening scholar, and obtained a Masters Degree in International Studies from the University of Birmingham in 1996. The Chevening Scholarships programme is funded by the Foreign and Commonwealth Office, with some contributions from Higher Education Institutions and other external partners and provides scholarships to a wide range of potential future leaders. This academic year, there are over 700 Chevening scholars studying at Universities throughout the UK.
Prince Seeiso is married to Princess Mabereng Seeiso of Lesotho and they have three children - Prince Bereng Constantine Seeiso, Princess Masentle Tabitha Seeiso and Prince Maupha David Seeiso.
Published 1 December 2011