Prince Philip visits Sellafield
The Duke of Edinburgh has paid a visit to Sellafield to see the world-leading engineering and innovation being used to clean the site.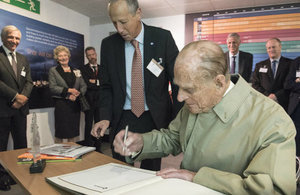 Given a guided tour of the site, the Duke saw first-hand the size and scale of the clean-up challenge at Sellafield and the innovative ways they are being overcome.
This will be his third visit to Sellafield, having previously visited Windscale in 1955 as well as opening the Sellafield Visitors' Centre in 1988.
The Duke was accompanied on the visit by the Lord Lieutenant for Cumbria, Claire Hensman, and members of the Sellafield Ltd and Nuclear Decommissioning Authority Executive and Board.
Phil Hallington, Head of Policy at Sellafield Ltd, had the special honour of taking the Duke on a guided tour of the site. He said:
60 years ago I was stood with my father, who worked on the site, watching Her Majesty the Queen open Calder Hall, the world's first commercial nuclear power station.

I'm delighted to have welcomed the Duke to Sellafield and show him why the site is a still a national asset 60 years later.

Today has been a real honour for everyone at Sellafield Ltd, the NDA and the hundreds of businesses in our supply chain network.

It's been a wonderful opportunity to showcase the remarkable skills and capabilities of our employees and supply chain, and the progress we are making in safely cleaning-up Europe's most complex nuclear site for the benefit of the UK and the world.
During his visit, the Duke also met with employees who not only drive forward the Sellafield Ltd and Nuclear Decommissioning Authority mission, but also hold crucial voluntary roles – from emergency service volunteers to flood recovery heroes – within the local community.
Shirley Fawcett, Head of Public Affairs at Sellafield Ltd and the founding and current chairperson of West Cumbria Domestic Violence Support, was part of the group selected to meet His Royal Highness.
Shirley added:
At Sellafield our employees are our most important asset, not only for the skills and professionalism they demonstrate inside the site, but also for the compassion and dedication they show towards the community in which they live and work.

It's been a real privilege to welcome the Duke and show him the passion that the Sellafield workforce has for supporting our local community.
Adam Sharp, a mechanical design-engineering apprentice, also met the Duke. Adam, 22 from Cockermouth, said:
I'm proud to have represented the 500 plus apprentices we have in training with Sellafield Ltd and to show the Duke the talent and skills that is being grown in west Cumbria. It was a moment in my career I'll never forget.
Published 21 October 2016