World news story
Prince of Wales visit to Jordan
His Royal Highness Prince Charles visits Jordan as part of Gulf tour.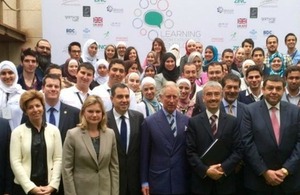 From 7-9 February His Royal Highness the Prince of Wales visited Jordan as the first leg of his Gulf regional tour.
Prince Charles was accompanied on his trip by the Secretary of State for International Development, Justine Greening. The Prince met with Iraqi Christians who had been forced to flee their homes in Mosul, as well as conducting a visit to Zaatari refugee camp and the nearby Zaatari village. He saw examples of the projects that the UK is supporting in both these locations. Later he called on His Majesty King Abdullah the II, where they discussed ways the UK and Jordan can better work together and then proceeded to make opening remarks at an event gathering religious leaders to discuss ways to tackle extremism. The Prince then attended an event at the Zain Innovation Campus (ZINC) about employability and entrepreneurship.
Speaking at the ZINC event, His Royal Highness said 'The UK is committed to Jordan's security, stability and prosperity.'
During the visit to Zaatari refugee camp, the Secretary of State for International Development said 'Britain stands shoulder to shoulder with Jordan' as she pledged an additional £100m in UK support for the Syria crisis.
This pledge builds on the £220 million the UK has given in support to Jordan over the last three years.
Published 14 February 2015