World news story
Prince of Wales' envoy in Chile for Our Ocean conference
The Director of The Prince's Charities' International Sustainability Unit (ISU), Justin Mundy, is visiting Chile for the conference.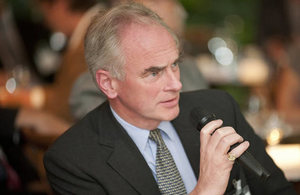 The Director of The Prince's Charities' International Sustainability Unit (ISU) which has been set up to reflect His Royal Highness The Prince of Wales' vision and aims in the area of sustainable development, Justin Mundy is in Chile to participate in Our Ocean international conference.
Organised by the Chilean Ministry of Foreign Affairs, Our Ocean will have more than 400 leaders from government, academia, and civil society who are committed to protecting the ocean will participate. The goal is to find solutions to deal with illegal fishing, marine plastic pollution, ocean acidification and its relation to climate change. Moreover, the conference seeks to encourage the creation of marine protected areas as a tool to protect the marine ecosystem.
Justin Mundy has thirty years' experience of working on climate change, environment and energy issues and has done so within the public, multilateral and private sectors.
Within the private sector he was a managing director of Climate Change Capital, responsible for Strategic Development and previously Senior Adviser to Deutsche Bank's Global Markets Group with responsibility for Climate Change issues and was also a director of Aon carbon.
He was a founder of ForestRe, a specialist forestry insurance company.
In the public sector he was an Adviser to the UK Government on Russia, Energy and Climate issues and during 2005 was the principal architect of the Clean Energy Investment Framework under the Gleneagles' G8 Action Plan. From 2003 to 2007 he was a member of the UK Government's Sustainable Energy Policy Advisory Board. During the UNFCCC COP6 (bis) and COP7 he was appointed adviser to the European Commission on EU – Russia coordination.
Between 1992 – 1998 he ran the World Bank's forestry and biodiversity programmes in Russia and Central Asia and was the Bank's environment adviser for the region's oil and gas sector.
Before joining the World Bank, he worked extensively on environment, forestry and conflict resolution programmes in Asia, South America, Africa and Eastern Europe.
Further information
Visit Our Ocean webpage for more information about the conference.
For more information about the events and activities of the British Embassy in Santiago, follow us on:
Published 5 October 2015