World news story
Prince has made a donation towards Garrison Cemetery in Kandy
His Royal Highness the Prince of Wales has made a personal donation towards the upkeep of the Garrison Cemetery in Kandy.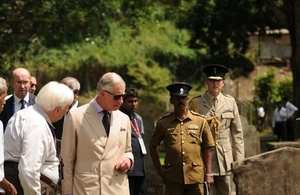 The Prince of Wales called at the cemetery as part of his visit to Sri Lanka for the Commonwealth Heads of Government meeting in November, after paying his respects at the Temple of the Tooth. The cemetery contains the graves of many British nationals who played a role in the development of Sri Lanka in the 19th Century, including Lady Elizabeth Gregory and Sir John D'Oyly.
His Royal Highness's donation will go towards the continuing upkeep of the cemetery, which is visited by many tourists to Kandy each year. Mr Chris Worthington MBE, Honorary Supervisor of the Commonwealth War Graves said " I am delighted that His Royal Highness has seen fit to make this personal donation towards the maintenance of this cemetery, which is of both historic importance and a tranquil resting place for British nationals who contributed much to Sri Lanka." Mr Worthington also thanked the Sri Lankan Departments of Archaeology and Cultural Affairs for their continuing support for the cemetery's upkeep.
The donation was also warmly welcomed by British High Commissioner to Sri Lanka, John Rankin. He recalled the Prince of Wales' keen interest in the cemetery and its preservation during his visit. His Royal Highness had heard the stories of the many interesting individuals buried there from Charles Carmichael, caretaker at the cemetery for the past sixteen years. The High Commissioner said "I am most grateful to His Royal Highness for this kind donation. The cemetery is an important reminder of the close historic links between the United Kingdom and Sri Lanka and I know that its preservation will be welcomed by the ever increasing number of people of many nationalities who visit the cemetery each year.
Published 17 February 2014