World news story
Prince Harry visits Oman
HRH Prince Harry starts a 3- day visit to Oman at the invitation of His Majesty Sultan Qaboos bin Said al Said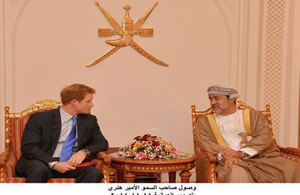 HRH Prince begins a 3- day visit to Oman at the invitation of His Majesty Sultan Qaboos bin Said al Said. He was greeted at Muscat International Airport on Tuesday morning ( 18 November) by HH Sayyid Haitham bin Tariq al Said, the Minister of Heritage & Culture and the Omani patron of the Omani British –Friendship Association. On his first visit to Oman, The Prince will undertake some engagements during his stay. These engagements include a visit to Nizwa Fort, where Prince Harry will have the opportunity to view local arts and crafts at a souq outside the gates of the fort, before being greeted with a traditional sword dance inside the Fort's courtyard. The Prince will then be given a guided tour around the historic fort. He will also visit Sultan Qaboos Grand Mosque.
The visit reflects the close personal relationship that exists between the royal families of each country and follows recent visits by HM The Queen in 2010 and HRH The Prince of Wales in 2013. Additionally , it will support the strong bilateral relations between the UK and Oman.
Prince Harry visited on Tuesday morning ( 18th November) the British Embassy in Muscat where he met staff and heard about the work of the Embassy.
Published 18 November 2014