World news story
Prince Harry and young Singaporeans talk about the importance of mental health
It's not easy to talk about how you feel but Prince Harry and young Singaporeans have highlighted the importance of doing so.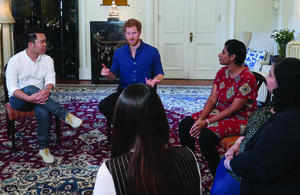 A short film released today highlights some of the pressures that young people face, the unnecessary stigma around mental health and the need to seek help early on.
When asked by 30 year old Cho Ming Xiu if he had a message for young people in the UK or Singapore Prince Harry replied:
You have to talk about your mental health in order to be mentally fit and therefore be happy and healthy for the rest of your life.
A number of the young people involved in the chat are Peer Support Specialists or plan to be. These are young people who have suffered from mental health issues themselves and have now recovered enough to support others in their recovery journey. They are trained by the Social Service Institute, a part of the National Council of Social Service, in partnership with the Institute of Mental Health and they work in the Community Health Assessment Team's (CHAT) services.
The need to take mental health seriously is an issue that is close to Prince Harry's heart and he has spoken candidly about his own experiences. Along with the Duke and Duchess of Cambridge, Prince Harry established Heads Together to end the stigma around mental health.
They say:
Through our work with young people, emergency response, homeless charities, and with veterans, we have seen time and time again that unresolved mental health problems lie at the heart of some of our greatest social challenges.
To find out more about CHAT's work or to get help, click here.
Prince Harry And Young Singaporeans Talk About The Importance Of Mental Health
Follow us on social media:
British High Commission, Singapore on Facebook , Twitter and Instagram
British High Commissioner to Singapore, Scott Wightman on Twitter
Department for International Trade, Singapore on Twitter
Published 6 June 2017