Prince Edward meets Cancer Fund award winners
HRH The Earl of Wessex Presents Duke of Edinburgh's Gold Award Certificates to participants from the Northern Ireland Cancer Fund for Children (NICFC).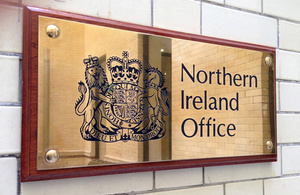 His Royal Highness the Earl of Wessex, on the second engagement of the day, presented Duke of Edinburgh Gold Award Certificates to young people from the Northern Ireland Cancer Fund for Children (NICFC) at Shimna Valley Village, Newcastle, Co Down.
NICFC has been running the Duke of Edinburgh's Award from Narnia since 2005. It offers teenagers and young adults aged 14 to 25 years old, involved in its Youth Programme, the opportunity to complete their Bronze, Silver and Gold Award programmes. In the last 7 years 140 young people living with cancer have completed the programme.
Upon arrival HRH was greeted by the Lord-Lieutenant of County Down, Mr David Lindsay. Accompanied by Mr John Barrett, Chair of NICFC and Mrs Gillian Creevy, Chief Executive, NICFC, HRH met NICFC Board members, NICFC Volunteers (Shimna Valley Village), NICFC Ambassadors, Mrs Naomi Long MP.
Also in the Lounge HRH went on to meet NICFC Sponsors and Supporters, Shimna Valley Staff and Duke of Edinburgh's Award Volunteers.
Moving to the Narnia Cabin, accompanied by Mr Peter Topping, Youth Programme Manager, NICFC and Duke of Edinburgh's Award Manager, HRH met a number of Youth Workers and young people involved in Duke of Edinburgh Award activities, including packing a rucksack and equipment checking; map/log book work; and menus and food planning.
Later, HRH met Duke of Edinburgh Gold Award participants, Niall Connor, Liam Lavery, Gillian Adair and Natasha Walsh and their parents/guardians.
Ms Kate Thompson, Director, Duke of Edinburgh's Award Northern Ireland, invited HRH to present the Gold Award participants with their certificates and to present the Duke of Edinburgh's Award Operating Authority Licence Certificate to Gillian Creevy on behalf of the NICFC.
Following a few words from Mrs Creevy, His Royal Highness was invited to unveil a plaque to commemorate the visit. HRH was presented with a gift of Shimna Valley Village "Daisy" Shortbread by NICFC Volunteer and Gold Award recipient Barbara Kennedy before signing the visitors' book.
Prior to departure HRH viewed the plans for a new NICFC building project, bringing the engagement to a close.
Notes to editors
Upon arrival HRH was greeted by the Lord-Lieutenant of County Down Mr David Lindsay and went on to meet:
Councillor Dermot Curran, Chairman Down District Council
Mr John Dumigan, Chief Executive, Down District Council
Mr Edwin Poots MLA, Minister, Department of Health, Social Services and Public Safety
Mr John Barrett, Chair, NICFC
Mrs Gillian Creevy, Chief Executive, NICFC
Mr Peter Topping, Youth Programme Manager, NICFC and Duke of Edinburgh's Award Manager
Published 1 February 2012