World news story
Prince Charles visits the State of Qatar
On 12 February, HRH The Prince of Wales visited Qatar. He met HH the Emir Sheikh Tamim bin Hamad Al Thani.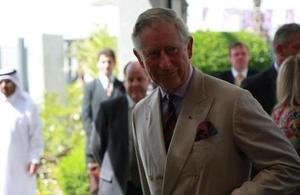 The British Ambassador to Qatar, HE Nicholas Hopton said:
I am delighted that HRH The Prince of Wales has been able to visit Qatar again and so soon after his last visit. Our two countries have a long history of friendship and cooperation and our partnership continues to grow even broader and deeper. HRH's visit is a further demonstration of the two nations' commitment to the closest possible partnership and friendship at the most senior levels. The UK looks forward to further close cooperation with Qatar across the board and in particular to tackle the many challenges facing us in the region and globally.
His Royal Highness has previously made five official visits to Qatar in 1986, 1997, 2007, 2013 and 2014.
Notes to Editors
For more information about The Prince of Wales please visit www.princeofwales.gov.uk.
Published 16 February 2015