Prince Charles praises Paras
Paratroopers recently returned from Afghanistan were praised for their 'selfless service and commitment' on the front line by His Royal Highness The Prince of Wales on 16 June 2011.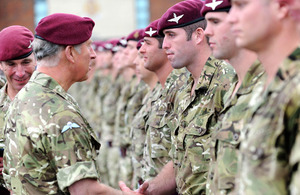 Prince Charles, who is Colonel in Chief, The Parachute Regiment, and The Duchess of Cornwall presented Operational Service Medals to soldiers from 2nd, 3rd and 4th Battalions of The Parachute Regiment, who have recently returned from a six-month deployment to Helmand Province.
Some 600 soldiers who had completed their first tour received their medals at the parade at Colchester's Merville Barracks, with Their Royal Highnesses presenting medals to around 120 soldiers each. Prince Charles said:
Once again, the Parachute Regiment has excelled in the dangerous and demanding environment of Afghanistan, and you have given hope to local people.
These achievements have come at a terrible cost and as you stand here it is only right that we pay tribute to the friends and colleagues who didn't make it home. To the wounded, your courage and determination to overcome your injuries is utterly humbling.
The selfless service and commitment you have all given is unwavering and this country owes you all a very special debt of gratitude.
After the medal parade, Their Royal Highnesses presented Elizabeth Crosses and Memorial Scrolls to the families of 21 Paratroopers killed in Northern Ireland, the Falklands, Iraq and Afghanistan and met the families of soldiers killed and wounded on the recent tour.
The Paras served in Afghanistan on Op HERRICK 13 from October 2010 to May 2011. 2 and 3 PARA served as ground holding infantry battlegroups in the Nahr-e-Saraj (South) and Nad 'Ali (North) areas respectively, while 4 PARA is the Parachute Regiment's Territorial Army battalion.
Approximately 70 reservists were mobilised to serve alongside their regular counterparts.
Lieutenant Colonel James Coates, Commanding Officer of 3 PARA, said:
The parade is about welcoming the Regiment back from Afghanistan, and making a pledge to our wounded and bereaved families that we will support them through whatever they have to face.
This was 3 PARA's third tour of Helmand in five years and we have seen genuine change. We pushed the insurgents out of our area of operations, helped further redevelopment and build confidence in local government.
Lieutenant Colonel Andrew Harrison, Commanding Officer of 2 PARA, said:
We took the campaign forward in Nahr-e Saraj (South) at a pace we could never have anticipated, which is testament to the quality of our soldiers. They went out on patrol every day, working to win the confidence of the local population as much as defeating the insurgents.
The presence of our Colonel-in-Chief at the medal parade means a huge amount to the Regiment.
The 2 PARA Battle Group was responsible for security in the Nahr-e Saraj (South) district, a rural area between Helmand Province's administrative capital in Lashkar Gah and the economic centre of Gereshk.
Key achievements include establishing patrol bases in the former Taliban strongholds of Tor Ghai and Hadezai, clearing dozens of IEDs from Walizi and Char Coucha, opening seven schools and setting up a radio station to broadcast news, music and community updates to the district's 37,000 residents.
The 3 PARA Battle Group was responsible for Nad 'Ali (North), a 170 kilometre-square shoulder of irrigated farmland and desert between Nad 'Ali and Babaji districts.
In an insurgent haven that had seen minimal enduring ISAF presence, the 3 PARA Battlegroup cleared and then consolidated six protected communities, breaking the insurgent stranglehold over the area.
3 PARA's efforts enabled the Government of the Islamic Republic of Afghanistan to finally reach the population, offering an alternative option to Taliban rule.
After yesterday's medal parade at Merville Barracks, the soldiers and their families were fed by Kismet Kebabs, based in Latchingdon, Essex, who provided 2,000 free kebabs and also brought along a record-breaking 4,000 kg kebab.
Peter Micheal, Kismet Kebabs' managing director, said:
My motivation in making the giant kebab was to do something spectacular to show our support to our troops, who put themselves at risk in all our names. The guys deserve all the praise and support we can give them and feeding them today is just a small gesture from my company.
The record-breaking kebab is two metres tall, took five days to assemble, and is so big that it has proved impossible to cook it. Mr Micheal said:
The Army looked at ways to cook it and decided that it couldn't be done, and if these guys can't do it no-one can! Instead we set up a kitchen at the barracks and cooked 2,000 kebabs fresh for free, and would happily do the same again to show my support for the Army.
Captain Kevin Finch, who is in charge of logistics at Colchester Garrison, said:
We are very grateful to Kismet Kebabs for their generous support to Colchester Garrison and The Parachute Regiment's medal parade. It is a great boost to morale to know that we have the support of local businesses.
Published 17 June 2011