World news story
Prime Minister's Trade Envoy Baroness Northover visits Angola
Baroness Northover's visit demonstrated UK's support for economic diversification in Angola.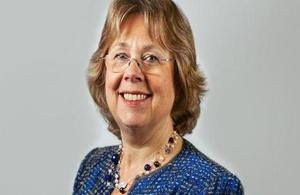 The Prime Minister's Trade Envoy to Angola, Rt. Hon Baroness Lindsay Northover, visits Angola next week to underline the UK's continued support for economic diversification in the country. This is the third such visit in seven months to Angola by Baroness Northover- demonstrating the UK's commitment to increased trade flow between the two countries.
Baroness Northover said:
I'm delighted to be visiting Angola again, for the third time in seven months. My visit demonstrates just how important the UK Government views the relationship between our two countries. Nearly fifteen years after achieving peace, Angola's extraordinary growth rates have been the envy of the region and the world. Yet recent macroeconomic challenges, particularly in the recent fall of the oil price, have increased its need for economic diversification.

The UK is superbly placed to offer assistance and expertise in that task - be it in the agriculture sector, in energy beyond oil, or in financial services, to name just a few areas. During my visit I will be discussing things with Angolan ministers and senior officials, to explore how we can make a reality of this enormous potential, and take our levels of commercial engagement still higher.

I'm particularly looking forward to going beyond Luanda for the first time, and to seeing more of this beautiful country. I will view, at first hand, energy projects such as the Lauca Hydroelectric Dam, attend a Cotton/Textiles event in Quela, and view a number of agriculture and joint UK/Japan demining projects in the province of Malanje.
As part of the five-day visit to Luanda, Baroness Northover plans to meet with various ministers including the Minister of Finance and the Ministers of Agriculture, the Minister of Energy and Water as well the Governor of the National Bank of Angola and the Governors of Luanda and Malanje- to discuss ways the United Kingdom can support investment opportunities for British companies in their sectors and locations- and to reaffirm the UK's commitment to responsible investment.
HE John Dennis, British Ambassador to Angola, said:
We are privileged to once again welcome our Prime Minister's Trade Envoy to Angola. Her visit signifies the importance we attach to our relations with Angola. On this visit Baroness Northover will travel outside Luanda for the first time (Malanje) to see for herself the agricultural opportunities that exist in the country and to support UK efforts towards demining in Angola. She will also meet a wide range of Angolan ministers and senior officials, and of British and Angolan businesses. This will help us boost trade ties, and >uncover opportunities for investment in the future.
Notes to Editors
Rt Hon Baroness (Lindsay) Northover was Parliamentary Under Secretary of State at the Department of International Development (DFID), and Minister for Africa, 2014-15, in the Coalition Government. Prior to that she served in a number of other Government departments, including the Ministry of Justice, the Department of Health, the Department for Education, the Department for Energy and Climate Change, the Department for Environment, Food and Rural Affairs, the Department for Culture, Media and Sport and the Government Equalities Office, as well as serving as Lead Government Spokesperson for DFID from 2010-14.
She is an Honorary Associate Professor at the Institute of Global Health Innovation at Imperial College London, and is a former Member of Council of the Overseas Development Institute, Trustee of the Tropical Health and Education Trust, and Trustee of UNICEF UK. She is a Liberal Democrat member of the House of Lords, serving as Spokesperson for her Party first on Health and then on International Development. She has served on a number of House of Lords Select Committees. Her first degree is from Oxford University, and her Master's and PhD are from Bryn Mawr College and the University of Pennsylvania in the USA. Lindsay Northover was formerly a Lecturer at the Wellcome Institute and University College London.
Published 30 September 2016