Prime Minister's reaction following EU talks in Brussels
Prime Minister David Cameron has rejected a new European Union treaty saying that what was on offer was "not in Britain's interests".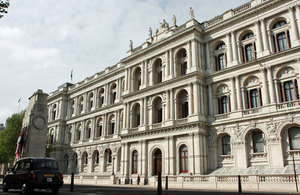 Speaking after overnight talks in Brussels amongst leaders of EU countries the Prime Minister said:
"I said before coming to Brussels that if I couldn't get adequate safeguards for Britain in a new European treaty, then I wouldn't agree to it. What is on offer isn't in Britain's interests, so I didn't agree to it.
Let me explain why this matters. Of course, we want the eurozone countries to come together and to solve their problems. But we should only allow that to happen inside the European Union treaties if there are proper protections for the single market and for other key British interests.
Without those safeguards, it is better not to have a treaty within a treaty, but to have those countries make their arrangements separately. That is what is now going to happen. Britain's interests in the European Union - keeping markets open, free trade, selling our goods and services with rules over which we have a major say - all those things are protected. They don't change. But this new round of integration and special powers and surrenders of sovereignty for European countries and others that want to join the euro, they will be carried on outside the European Union treaty.
So we will not be presenting this new treaty, when it's agreed, to our Parliament. It will not involve Britain. Of course, while there were always dangers with agreeing a treaty within a treaty, there are also risks with others going off and forming a separate treaty; and we should acknowledge that. So we will insist that the EU institutions - the court, the Commission - that they work for all 27 nations of the European Union.
Indeed, those institutions are established by the Treaty, and that Treaty is still protected. Let me make a final point - the decisions taken here tonight all flow from one thing: the fact that there is a single currency in Europe - the euro. Britain is out of it, and will remain out of it. Other countries are in it and are having to make radical changes, including giving up sovereignty, to try and make it work.
The difference between the "ins" and the "outs" - those in the euro and those out of the euro - has inevitably created some tensions within the European Union. Now there are arrangements in the EU treaties to allow different countries to do different things, but these have always been accompanied by adequate safeguards within the treaties.
When we can't be given those safeguards in the treaty, it is better this is done by intergovernmental arrangements, outside the treaty and outside the institutions of the European Union. That is what will happen, and that is what is in Britain's national interests.
Those countries that sign this treaty, and the agreements they have made tonight, for coordinating their budgets and making sure there is more surveillance of what they do and the fiscal integration that they need, we wish them well because we want the eurozone to sort out its problems, to achieve that stability and growth that all of Europe - Britain included - needs.
We wish them well in that regard and the agreements they have made tonight, some of those may indeed help them to do that. But they key question for Britain was: do you allow that to happen within the European Union treaties if you are not happy with the safeguards you are given? I wasn't prepared to agree that treaty, to take it to my Parliament in that way, and that is why I rejected signing this treaty today. The right thing for Britain. A tough decision, but the right one."
Published 9 December 2011