News story
Prime Minister's Q&A at Global Radio in Manchester
The Prime Minister held a live Q&A with Global Radio at its Capital FM and Xfm studios in Manchester.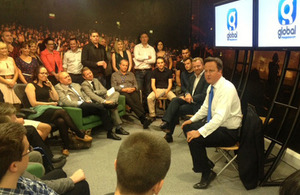 David Cameron spent more than an hour answering questions from listeners and staff on subjects including cyber-bullying, apprenticeships, the spare room subsidy and childcare costs.
After the Q&A, the Prime Minister said:
I really enjoyed it. There were lots of great questions and a really big variety – internet, musical taste and everything else.
Listen to the full Q&A on the Capital FM website.
Published 8 August 2013