Prime Minister unveils GREAT campaign for UK growth
At a speech for business leaders in New York, Prime Minister David Cameron launched a new cross-government campaign to promote Britain as a great place to visit, study, work, invest and do business.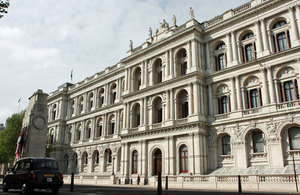 Following the Royal Wedding in April 2011 and with London 2012 and the Diamond Jubilee taking place next year, the eyes of the world are on the UK. The British Government is determined to seize this unprecedented opportunity to ensure that the 2012 Olympic and Paralympic Games are not only a spectacular celebration of sport, but also a chance to show everything Britain has to offer.
Britain's new GREAT campaign will focus on ten areas of British excellence from Innovation to Knowledge, all underlining how the UK is one of the very best places to visit, study, work, invest and do business.
At the launch event in New York, the Prime Minister said:
"In 2012, there is only one place to be. With the Olympic and Paralympic games coming to London next summer, the greatest show on earth is about to arrive in one of the world's greatest cities.
"But Britain in 2012 will offer more than just sport. It will offer a fantastic opportunity. It is a chance for the world to re-discover the unique qualities that make Britain such a compelling destination - for business and tourism, for innovation and entrepreneurship, for world-class creativity and culture.
"Britain today is simply a great place to visit, study and work. A great place to invest and do business.
"We want to extend an invitation to the world to take a fresh look at everything we have to offer."
As part of the invitation to international businesses, the Prime Minister announced plans for a Global Investment Conference for investors and business leaders to be held in London on the eve of the Games. He also highlighted an innovative programme of events to be run by the British Business Embassy during the Games, each focusing on a different sector. Over the course of the Games this will give UK-based and international companies across a range of industries the chance to showcase their capabilities.
The Prime Minister also announced the 'British Business Club', an online resource for UK-based and overseas businesses that includes details of networking events, future business opportunities and potential partners. As well as covering business activity around the 2012 Games, the site will also highlight details of other future international sporting events. The website will go live later this week and is free to join. UK and overseas businesses can register online at www.britishbusinessclub.org
Published 21 September 2011