Prime Minister to visit Russia
Prime Minister David Cameron will visit Russia next year, after accepting an invitation from Russian President Dmitry Medvedev.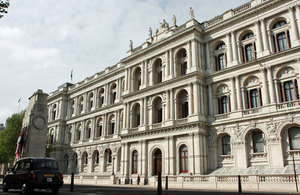 The two leaders held talks during the G20 summit in Seoul.
Speaking after their meeting the Prime Minister said:
"We have both agreed we want to strengthen the bilateral relationship. I am very pleased to take up the invitation of a visit to Russia next year."
The Prime Minister said that he and the President shared views on economic issues such as global trade imbalances.
The situation in Iran and North Korea and the upcoming summit between Russia and Nato were also discussed.
The Russian President said:
"We're interested in seeing these relations grow and develop this year. We need to closer look into setting up bilateral contacts at the highest level."
The visit to Russia will be the Prime Minister's first visit in the role. He follows Foreign Secretary William Hague, who visited Moscow in October.
Published 12 November 2010