News story
Prime Minister offers a "very warm welcome" to Pope Benedict XVI
Prime Minister David Cameron has offered Pope Benedict XVI a "very warm welcome" to Britain ahead of his "incredibly important and historic visit".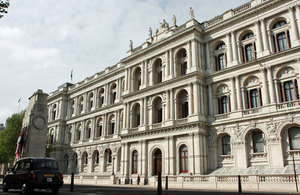 Pope Benedict XVI starts his four day official visit to the UK on Thursday 16 September. This is the first ever official Papal visit to the UK.
The Pope will be visiting Edinburgh, Glasgow, London and Birmingham.
The Prime Minister said:
"This is the first ever Official Papal Visit to these shores. And it's a great honour for our country.
These will be a very special four days not just for our six million Catholics but for many people of faith right across Britain, and millions more watching around the world."
Pope Benedict XVI will visit the UK as Head of State of the Vatican and as the leader of a major denomination.
Published 14 September 2010