Prime Minister launches drive to maximise economic potential of London 2012 and deliver long term growth as a key part of Britain's Olympic legacy
Plans to generate at least £1 billion in Olympic business boost and attract four million extra visitors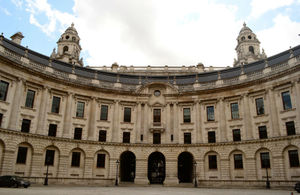 A new drive to promote Britain abroad, as a place to visit and do business, was launched today by the Prime Minister, David Cameron.
With the Royal Wedding this year, and London 2012 and the Queen's Diamond Jubilee next year, the eyes of the world are on the UK. The Government is determined to seize this unprecedented opportunity to ensure that the 2012 Olympic and Paralympic Games are not only a spectacular celebration of sport, but also deliver a lasting economic legacy for the whole country, boosting investment, jobs and growth.
A new GREAT campaign, announced by the Prime Minister in New York, will focus on everything the UK has to offer as one of the very best places to visit, study, work, invest and do business. It will allow Britain to speak with one voice about the opportunities to invest in the UK and help to attract millions of extra visitors.
Cameron said:
"In 2012 there will be only one place to be. With the Olympic and Paralympic Games coming to London next summer, the greatest show on earth is about to arrive in one of the world's greatest cities.
"We are determined to make the most of this unprecedented opportunity to ensure we deliver a lasting economic legacy that will benefit the whole country.
"This campaign is simple. There are so many great things about Britain and we want to send out the message loud and proud that this is a great place to do business, to invest, to study and to visit."
At least £1 billion in Olympic business boost:
The Prime Minister also announced plans today for a 'Global Investment Conference' for investors and business leaders to be held in London on the eve of the Games, an innovative programme of business summits including the 'British Business Embassy' highlighting key sectors for global growth, and an on-line 'British Business Club'. The programme of business events will be delivered by UK Trade & Investment and is expected to generate, over time, at least a £1 billion boost for British business.
Vince Cable, Secretary of State for Business, Innovation and Skills, said:
"The Olympics is a tremendous opportunity to showcase the best of British. We want to demonstrate the great products we already offer the world, from Formula One racing cars to innovative aerospace technology and cutting edge fashion brands.  And we want to highlight the opportunities for world-leading businesses with global ambition to invest and grow in Britain."
Lord Green, Minister for Trade and Investment, added:
"I am determined that we make the most of 2012 to promote brand Britain and deliver long-term economic benefits for the whole country. The GREAT campaign will be an important part in achieving that goal. UK Trade & Investment's innovative programme of business engagement will, over time, deliver more than a billion pounds of additional revenue for British business."
An extra four million visitors:
Tourism will be a key part of the GREAT campaign. The sector already contributes £115 billion each year to the UK economy and has the potential to be one of the fastest growing sectors in the years ahead. The Government aims to attract an extra four million visitors to the country over the next four years.
Jeremy Hunt, Secretary of State for Culture, Olympics, Media and Sport, said:
"With the eyes of the world on Britain in 2012, we have a fantastic opportunity to showcase everything that the country has to offer. The GREAT campaign will ensure that we make the most of London 2012 to boost tourism and business, leaving a lasting economic legacy from London's Games."
Some of GREAT's supporters so far:
Marc Bolland, Chief Executive, Marks & Spencer: "As a true British brand, Marks & Spencer is proud to represent all that is great about Britain to our customers internationally." 

Colin Grassie, Chief Executive Officer UK, Deutsche Bank: "We are delighted to be associated with this exciting campaign and look forward to engaging with the Government on it."

Jonathan Goodwin, Co-founder of the Founders Forum & PROfounders: "We are proud to be linked with this exciting campaign and will work with the Government to drive it forward." 

Steve Holliday, Chief Executive, National Grid: "We strongly support the aims of this campaign and will assist the Government where we can." 

Justin King, Chief Executive Officer, Sainsbury's Supermarkets Ltd: "We are delighted to support this exciting campaign.  We want to play our part in putting the Great back into Britain." 

Julian Roberts, Chief Executive, Old Mutual plc: "This is an exciting campaign which we are delighted to be involved with; we will work closely with the Government to help achieve its aim."

Angela Ahrendts, Chief Executive Officer, Burberry: "We applaud the vision of the new GREAT campaign. As a global brand with a proud British heritage, we fully support its aim of raising international awareness of the country's unique assets and tremendous opportunities for inward investment."

Tom Albanese, Chief Executive, Rio Tinto: "We are delighted to be associated with this exciting campaign and look forward to engaging with the Government on it going forward."

Dominic Murphy, Partner at KKR: "We think Great Britain is a GREAT place to invest."

Wayne Edmunds, Chief Executive of Invensys plc: "As a British technology company helping industrial customers and rail operators in over 180 countries, we are pleased to support the Great campaign and in particular its aim of attracting further investment in technology and innovation into the UK."

Bob Diamond, Chief Executive, Barclays: "The single most important priority that we all share right now is to do everything possible to restore UK economic growth and job creation.
"Fundamental to that is rebuilding the confidence of those inside and outside the UK to invest; to visit; and to buy British goods. The GREAT Britain campaign will provide an important fillip to confidence at a critical time. Barclays has made Britain its home for over 300 years. We certainly think Britain is GREAT and look forward to working with Her Majesty's Government and the other campaign partners to remind the world why."
Ron Dennis CBE: "Britain has a great history of technology and innovation, and we should be very proud of that. I've always said that we need to inspire people in this country to achieve more and be confident about our achievements abroad. The GREAT campaign is essential in doing just that and in helping us compete for investment in a tough global economic environment."
Notes to Editors
GREAT:
The GREAT campaign, which has been led by the Department for Culture, Media and Sport (DCMS), will promote the UK as one of the very best places to visit, study, work, invest and do business.   It will centre on ten key areas of British excellence: technology and innovation; entrepreneurship; creativity; knowledge; green; heritage; sport; shopping; music; and countryside.
The campaign materials will be used by UK Trade & Investment, DCMS, FCO, Visit Britain and other Government departments to ensure the whole of Government speaks with one voice.
DCMS announced on 9 June 2011 that creative communications agency Mother had been appointed to work with partners across Government to co-ordinate and develop communications activity to maximise the economic benefits of hosting the Olympics in 2012.
Examples of the campaign materials can be downloaded from the DCMS website.
Further details on GREAT from DCMS on 020 7211 2210.
Global Investment Conference:
The Global Investment Conference will be held on the eve of the Games and will see 200 of the world's leading business leaders meet with Government Ministers to discuss opportunities for growth and investment.
British Business Embassy:
On each day of the Olympics the British Business Embassy will host a programme of events focusing on a different high growth sector each day. Over the course of the Games the British Business Embassy and associated events will give over 3,500 UK based companies the chance to showcase their capabilities to key overseas CEOs, buyers, influencers and decision makers.
On the British Business Club:
The British Business Club is an online resource for UK and overseas businesses that includes details of networking events, future business opportunities and potential partners. The content will not only include business activity around the 2012 Games, but also other future international sporting events. The British Business Club website is now live and is free to join. UK and overseas businesses can now register online.
Further details on these business initiatives from UK Trade & Investment on 020 7215 8483.
Further Background
Reasons to invest:
Innovation: Innovation lies at the heart of our culture. British ideas and inventions have helped shape our world: from the telephone to the World Wide Web

Entrepreneurship: You can now set up a company in Britain in less than two weeks

Creativity: The UK has the largest creative sector per head in the world

Knowledge: We have four of the top ten universities in the world

Green: Britain is a world leader in offshore wind energy and is home to the biggest wind farm in the world off Thanet in Kent

And:
Britain has a business-oriented economy with flexible labour markets
We are cutting corporation tax to the lowest in the G7
We have increased tax incentives to favour start-ups and high-growth businesses.
Britain continues to innovate, developing new regimes for intellectual property, and introducing visas specifically tailored to encourage entrepreneurs and investors.
We have protected our investments in science and research, developing Technology and Innovation Centres to encourage links between our universities and enterprise, helping to turn great research into commercial opportunities.
Government has established 22 new Enterprise Zones to support economic development with benefits such as tax breaks and new superfast broadband
We have increased R&D tax relief for small and medium sized enterprises, and we will do so again next year.
Britain is home to major brands in manufacturing, aerospace, and advanced engineering, as well as world-leading life science and pharmaceutical companies.
Britain is home to world-leading business services and creative industries, from law and accountancy to architecture, marketing, advertising, and design.
Reasons to visit:
Heritage: There are 28 World Heritage Sites in Great Britain. Britain is home to eight Heritage cities and 14 Roman walled cities. Edinburgh City centre is a UNESCO heritage site and is home to the Edinburgh Festival.

Sport: Britain is hosting a decade of great sport including the Olympics in 2012, the Commonwealth Games in 2014 and the Rugby World Cup in 2015.

Shopping: London is the shopping capital of the world: Europe's largest megastore, Westfield Stratford City has opened at the Olympic Park in London, and with Harrods, Selfridges, Fortnum & Mason and Harvey Nichols, London boasts some of the world's most famous department stores.

Music: From Glyndebourne to Glastonbury, the UK hosts the world's greatest music festivals.

Countryside: From Constable to Wordsworth, the British countryside has inspired some of the world's finest artists and poets.

And:
Britain is home to three of the top five museums and galleries in the world.
There are over 6,000 islands in the British Isles and no place in England is more than 120 kilometres from the coast.
From Land's End in Cornwall to John O'Groats in Scotland, Britain has 15 national parks, taking in the mountains of Snowdonia and the Giant's Causeway in Northern Ireland.
Britain is home to some of the world's most iconic sporting events and venues: Wembley for Football, Wimbledon for Tennis, Twickenham for Rugby, Lord's for Cricket, Silverstone for Motor Racing, Newmarket for horse racing, and St Andrews for Golf.
From Buckingham Palace and the Tower of London to the castles of Cardiff, Cawdor, Edinburgh and Windsor, Britain boasts some of the finest historic buildings in the world.
In Stratford, Shakespeare's work has found a new home in two newly-opened state-of-the-art theatres.  In London, the Globe Theatre, where many of his plays were first performed, has been rebuilt.
Her Majesty Queen Elizabeth II will be celebrating her Diamond Jubilee in 2012.
Press Enquiries: 020 7211 2210
Out of hours telephone pager no: 07699 751153
Public Enquiries: 020 7211 6000
Published 24 October 2011