News story
Prime Minister and Lord Heseltine announce plans to boost regional growth
Meeting members of the Liverpool City Region Shadow Local Enterprise Partnership (LEP), the Prime Minister announced he was commissioning Tesco…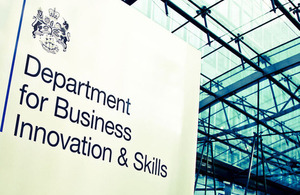 Meeting members of the Liverpool City Region Shadow Local Enterprise Partnership (LEP), the Prime Minister announced he was commissioning Tesco Chief Executive Sir Terry Leahy, a member of the Shadow LEP, Lord Heseltine and other Shadow Board members to produce a regional economic plan that will stimulate growth in Liverpool.
A national LEP summit on growth and competitiveness in the Spring will bring together LEP Chairs from across the country to prioritise action to stimulate growth at a regional level. This will be supported by additional money, to help LEPs understand the real issues facing local businesses, from a LEP Capacity Fund.
During the visit to the North West, the Prime Minister and Lord Heseltine visited Wirral Waters a site of economic redevelopment and attended a Regional Growth Fund roadshow, part of a series across the country to encourage local businesses and entrepreneurs to bid for money from the Government's flagship £1.4bn Regional Growth Fund.
The Prime Minister, David Cameron, said:
"In the next few years people all over our country - North, South, East, West - are going to see real change in the way local economies work.
"New Local Enterprise Partnerships - coalitions of business, councils and communities like the one I saw in the Wirral this morning, are already working with business leaders like Terry Leahy to get big local projects off the ground to boost regional growth.
"This is a step change in the way regional growth is driven. And part of that step change is the Regional Growth Fund. We are saying to people - if you've got an idea to bring investment and wealth to your area, the £1.4 billion Regional Growth Fund is there to help make those good ideas happen."
Lord Heseltine is undertaking a number of regional roadshows which provide advice on how potential applicants for the Fund can participate in the bidding process and to encourage them to come forward with high-quality proposals that promise to create economic growth and sustainable jobs and help communities to flourish.
Lord Heseltine said:
"I'm delighted to be here in the North West as an advocate for this important Fund.
"The Regional Growth Fund presents an opportunity for businesses and entrepreneurs to help shape their own economic future. I hope today's roadshow will inspire local people to think strategically about their area's priorities and I encourage them to come forward with compelling funding proposals that promise to deliver a positive change to the local economy; bringing new jobs and benefits to local people."
The Regional Growth Fund will operate over three years. The first of at least three bidding rounds is now open and the deadline for proposals is 21 January 2011. Further bidding rounds will be announced in early 2011. More information on criteria for the Fund and the bidding process is available from http://www.bis.gov.uk/policies/regional-economic-development/regional-growth-fund.
---
Notes to editors
Alongside the announcements on regional growth, the Government is also announcing further details for its £200 million national network of elite Technology and Innovation Centres that will work in partnership with universities and businesses to turn their research into commercial business ideas. To see the press release visit:
http://nds.coi.gov.uk/Content/Detail.aspx?ReleaseID=417319&NewsAreaID=2&ClientID=431
The membership of the Independent Advisory Panel for the Regional Growth Fund is as follows:
Lord Heseltine, Chair
Sir Ian Wrigglesworth, Deputy Chair
Felicity Goodey (Businesswoman, former senior BBC journalist)
Tony Greenham (Programme Head, New Economics Foundation)
Sir Richard Lambert (Director General, CBI)
Jon Moulton (Chairman, Better Capital equity group)
Caroline Plumb (Entrepreneur, Freshminds)
Sir David Rowlands (Chair of Gatwick Airport Ltd and Angel Trains Group Ltd)
Mark Seligman (Chartered Accountant and Banker, Credit Suisse)
Andrew Shilston (Finance Director, Rolls Royce)
Lord John Shipley (Former Leader Newcastle City Council)
Tony Venables (Academic Economist, Oxford University
The Regional Growth Fund has two key objectives:
stimulate enterprise by providing support for projects and programmes with significant potential for economic growth and create additional sustainable private sector employment; and
support in particular those areas and communities that are currently dependent on the public sector make the transition to sustainable private sector - led growth and prosperity.
Up to 150 local businesses, entrepreneurs and civic leaders attended today's Regional Growth Forum event at the Manchester Convention Centre for local businesses.

Lord Heseltine is Chair of the Independent Advisory Panel, which will consider all bids for funding and make recommendations to Ministers about which should be successful. He will be supported by Deputy Chair, Sir Ian Wrigglesworth and a team of academics, business and civic leaders.

The proposal for a new LEP Capacity Fund should be of benefit to those new business-led LEPs recognised by the Government, as set out in the Local Growth White Paper. The fund will be focussed on supporting the business-led LEPs to really understand the issues facing business in their area. Further details of the fund will be announced at the forthcoming LEP summit.

BIS' online newsroom contains the latest press notices, speeches, as well as video and images for download. It also features an up to date list of BIS press office contacts. See [http://www.bis.gov.uk/newsroom](http://www.bis.gov.uk/newsroom) for more information.
Notes to Editors
Contact Information
Name BIS Press Office Job Title
Division COI Phone
Fax
Mobile
Email NDS.BIS@coi.gsi.gov.uk
Name Olivia Campbell Job Title
Division Department for Business, Innovation and Skills Phone 020 7215 5363 Fax
Mobile
Published 6 January 2011