Prime Minister and German Chancellor discuss security, EU budget and trade
Prime Minister David Cameron held "substantive" talks with German Chancellor Angela Merkel at Chequers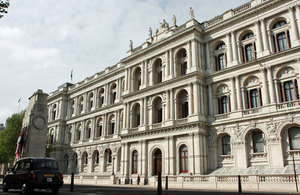 Chancellor Merkel arrived on Saturday evening with her husband for a two-day informal visit to the Prime Minister's country residence outside London.
A Downing Street spokesperson said the talks were "good and substantive" and said the PM "updated the Chancellor on the investigation into the attempted terrorist plot" which occurred late last week.
The two countries agreed to maintain their "close and effective counter-terrorism co-operation".
The meeting also followed the European Council where Mr Cameron secured agreement to keep the European Union budget in line with reduced national budgets.
There was "absolute agreement between the leaders the restraint needed to be shown in EU spending" at a time when European governments are tackling their own budget deficits.
The two leaders also discussed the global economy ahead of the G20 Summit in Seoul, and announced the creation of a new experts group with Indonesia and Turkey which will report early next year on how to boost global trade.
Published 31 October 2010