Press Conference on the G8 Agenda
HE John Marshall briefed the media on the UK's priorities for its G8 Presidency - the 3 Ts, Tax, Trade and Transparency.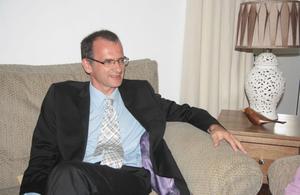 Good afternoon. Thank you for joining us today. I propose to explain the UK's priorities for its G8 Presidency and the G8 meetings which will take place this month, including those to which HE President Macky Sall and members of the Government of Senegal have been invited. I will then take questions.
The Prime Minister delivered a speech at the World Economic Forum in Davos in January 2013 setting out the main priorities for the UK's Presidency for the G8.
At the heart of our G8 agenda there are three issues - advancing freer trade, improving the basis of tax systems and promoting greater transparency.
We want to drive global prosperity by promoting open economies, open governments, and open societies.
Our agenda will not only support G8 economies and help us to get our own house in order, but will also spur action that will have a global reach benefitting developing countries too.
I will take each of these three issues in turn. On trade, the Prime Minister announced that he wants the UK's G8 Presidency to advance trade to promote world-wide economic growth. One of the things we want to achieve is to launch negotiations on a Free Trade Area between Europe and the US. In addition to the advantages this will bring to Europe and the US the rest of the world would benefit too, with gains that could generate $132 billion world-wide. The UK also wants the G8 to lead trade liberalisation and support an open, global rule based trading system, which will help to ensure that all countries can benefit from trade.
But as we free up the world economy, we must make sure openness delivers the benefits it should for developed economies and developing countries alike. That means consistent and fair rules for the global economy. When countries open up to cross-border trade, and global supply chains, they need to know that they will see the benefits in jobs, fair tax revenues and economic growth. So we need global rules that prevent tax evasion and aggressive avoidance, and enable governments to collect the taxes they are owed.
On tax therefore the UK wants to concentrate the efforts of the G8 on ensuring tax compliance in developed and developing countries alike. It will seek to combat tax evasion by examining options to enhance the exchange of tax information. As David Cameron has said, "we need to know who really owns a company, who profits from it, whether taxes are paid, and we need a new mechanism to track where multi-nationals…pay their taxes ." These problems – of tax evasion and beneficial ownership are as relevant in a country like Senegal as they are in the UK.
By improving international tax systems and the means of developing countries to interact with them, and reducing the space in developed countries for hiding illicit flows, we can not only make sure business works better for the G8, but for developing countries too.
On transparency, our view is that open societies and open governments will help drive lasting global prosperity. The G8 has a long history of advancing the development agenda and the G8 in 2013 will focus on getting its own house in order, and helping developing countries to prosper in the process.
Our transparency agenda focuses on three main areas:
Extractives
A lack of transparency in the payments of extractive industries has deprived citizens of the full benefit of their countries' abundant wealth. Increasing public information about revenues and payments from the extractives industries will allow citizens to hold government to account and ensure revenues are properly invested for the benefit of all. Through the G8 we will take steps towards a common global standard for resource-extracting companies to report all payments to Governments, and in turn for Governments to report those revenues. This will encourage more investment in resource-rich countries and level the playing field for business. You may have seen that last month the UK and France jointly announced that they would be joining the Extractives Industry Transparency Initiative.
Land
Opaque land deals and complex systems for land registration facilitate corruption, ignore citizens' rights and undercut legitimate businesses seeking access to land for productive investment. The G8 wants to shine a light on land acquisition, and ensure that agricultural land can be harnessed for responsible development.
Open Data
Citizens should know what their government is doing; one way for this to happen is to allow free access to government data and information. The G8 will launch an Open Data Charter setting out common principles for releasing data in an open format, agree a list of data sets for release this year and in future years, and commit to accelerating implementation of aid transparency standards.
G8 leaders will meet in Lough Erne, Northern Ireland, on 17-18 June. They will discuss the most pressing security, economic and other issues of the day. But these themes of Trade, Tax and Transparency will be high on their agenda. His Excellency Macky Sall is one of a very small number of world leaders who has been invited to join G8 leaders at lunch to discuss these issues. The President has also accepted an invitation to attend a pre-Summit event on 15 June where wider discussions will take place on trade, tax, and transparency with business, civil society and governments. It will focus on why open governments, open societies and open economies are essential for growth, jobs and sustainable development. Discussions will centre on how we can work together to promote and practice fairer trade, proper taxes and more transparent investment in land, minerals, oil and gas.
I also want to mention another G8 event which took place last Saturday 8 June in London. The aim of the event, called Nutrition for Growth – Beating hunger through business and science , was to have a transformational impact on tackling undernutrition. At the meeting Governments committed to put good nutrition at the centre of the development agenda and made commitments to how they would so this. Senegal was represented at this G8 meeting by the Minister of Agriculture who announced the new commitments made by Senegal as regards the fight against malnutrition. He also announced Senegal's intention to join the New Alliance on Food Security, a joint initiative between African leaders, their development partners and the private sector to accelerate investment in African agriculture.
Finally I would to highlight the emphasis we are putting on the need to tackle sexual violence in conflict. Our Foreign Secretary, William Hague launched the Preventing Sexual Violence Initiative (PSVI) in May 2012. Since then he has championed the issue through a high-level political campaign, culminating in the G8 Foreign Ministers' meeting in April. At this meeting G8 Foreign Ministers adopted a historic Declaration on Preventing Sexual Violence in Conflict .This Declaration contained a number of far-reaching legal, political and practical commitments. For example it endorsed the development of a new International Protocol on the Investigation and Documentation of rape and sexual violence in conflict. The UK will lead in developing this Protocol. Our overarching aim is to challenge the culture of impunity and increase the number of perpetrators held to account through promoting a coherent international approach and strengthening national capacity to tackle sexual violence in conflict.
Published 19 June 2013