Press release
President of CBI awarded honorary CBE
Business Secretary Sajid Javid, has bestowed an honorary CBE on Paul Drechsler, President of the Confederation of British Industry.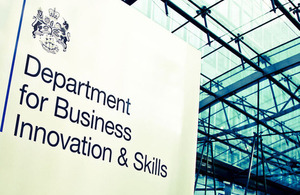 Business Secretary Sajid Javid, has today (16 December 2015) bestowed an honorary CBE (Commander of the Order of the British Empire) on Paul Drechsler, President of the Confederation of British Industry (CBI).
Mr Drechsler, who is an Irish citizen, received the honour for his significant contribution to voluntary and charitable services.
The businessman is also Chairman of Bibby Line Group, Chairman of Business in the Community's Education Leadership Team, a member of the Trinity College Dublin Business School Advisory Board, and a board member of Business in the Community (BitC).
It was during nearly a decade as Chief Executive and then also Chairman of the Wates Group that Mr Drechsler built a reputation as a champion for young people in businesses and a leader in sustainable development.
Serving on the board of trustees for BitC, a business community outreach charity promoting responsible business, he has helped ensure that over 500 schools across the most deprived areas of the UK have built partnerships with business. This has helped young people leave school with the aspirations, skills and motivation required to equip them for life in the workplace.
Mr Drechsler was Chairman of the National Skills Funding Agency Advisory Board until September 2015 and is currently Chairman of Teach First, a charity which aims to end inequality of education by building a community of exceptional leaders in the most disadvantaged schools across the UK.
The ceremony was conducted today (16 December 2015) at the Department for Business, Innovation and Skills.
Speaking at the event, Mr Javid said:
I'm delighted to present this award to Paul Drechsler for the exceptional work he has done to champion young people in business.

Paul has used his position and expertise in business to connect with a wide range of young people, opening doors and extending opportunity to all.
Notes to editors:
Non-British citizens are not entitled to receive their honour from the Queen at Buckingham Palace and are instead presented with their awards by the relevant Secretary of State.
Published 16 December 2015