Ministers seek 'fair and just' resolution for Presbyterian Mutual Society
Secretary of State meets to find a resolution for PMS members and sets out several courses of action ahead of the next meeting in September.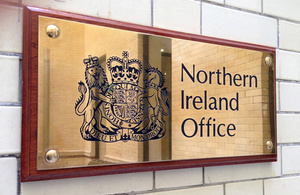 Secretary of State for Northern Ireland Owen Paterson met with Peter Robinson, Martin McGuinness and Sammy Wilson to assess progress in seeking a resolution for the Presbyterian Mutual Society (PMS) who have been unable to access their investments since the society entered administration in 2008.
Northern Ireland Minister Hugo Swire and Mark Hoban, the Financial Secretary to the Treasury, also attended this first meeting of the Ministerial Working Group on PMS which was reconvened at the request of the Prime Minister in an effort to find a fair and just resolution for PMS members.
Speaking after the meeting, Mr Paterson said:
Both before and since the General Election, the Prime Minister and I have been firm in our commitment to finding a fair and just resolution to this crisis. We are fully aware of the urgency of this matter. The meeting confirms the will which exists both in government and in the Northern Ireland Executive to work together in seeking a solution.
There is no easy answer, but I am keen to consider all available options to ensure PMS members are treated fairly.
We have identified several courses of action which will be pursued with urgency over the summer, and we are all clear that it will be important for PMS members that we reach a conclusion as quickly as possible after that.
We will meet again at the beginning of September.
Published 21 July 2010