Preparations for Glasgow 2014 Commonwealth Games
Minister for the Commonwealth views preparations for Glasgow Games.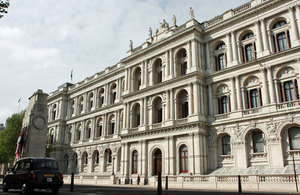 After London 2012, the next major games taking shape are the Glasgow 2014 Commonwealth Games. Minister for the Commonwealth Lord Howell visited Glasgow on 27 January to view the vast preparations which are underway, at the invitation of the Scottish Council for Development and Industry (SCDI).
He met members of Glasgow City Council and the Chief Executive of Glasgow 2014, who joined him on a tour the National Indoor Sports Arena and the Sir Chris Hoy Velodrome Precinct. These large capacity, state-of-the-art venues are nearing completion and, like the Games themselves, are integral to the economic and social development of the East End of Glasgow.
Lord Howell said:
"I have been hugely impressed by the vision and ambition of the City of Glasgow and the Organising Company to deliver a world class games in 2014. What is even more important is the lasting economic legacy that this event will deliver. It will raise the profile of Scotland and the UK in the Commonwealth and lead to significant trade opportunities for businesses in Scotland and throughout the Commonwealth."
The Minister also met Glasgow business leaders to discuss how companies can make best use of the Commonwealth network as a facilitator of trade within and beyond the Commonwealth.
Published 27 January 2012