Premier League signs the Sports Charter
The government's Sports Charter to tackle homophobia and transphobia in sport received a decisive boost today when all twenty clubs in the Premier League signed up.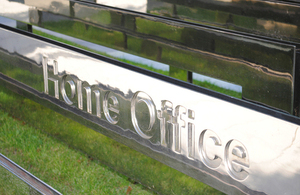 They have committed to challenge discrimination and work to rid football of homophobic and transphobic abuse both in the stands and on the field.
The voluntary Charter, launched by the Home Office in March last year, unites everyone who loves sport behind a pledge to reject homophobia and transphobia. With world famous Premier League clubs on board the Charter's message will reach more fans than ever.
Spread the word
Equalities Minister Lynne Featherstone said: 'The whole world admires the skill and competitive drama on display in our football grounds but too often we also see the worst of intolerance and discrimination.
'That's why the government launched the Sports Charter last year. It's a rallying cry for all of us to tackle homophobia and transphobia in sport. Everyone with an interest in sport will want to spread the message that homophobic and transphobic abuse is never acceptable.
3000 signatures so far
'Nearly 3,000 individuals and clubs have already signed up and I'm delighted that Premier League clubs have taken a stand by signing the Charter too. It sends a really strong signal when clubs in the best league in the world say enough is enough.'
Premier League Chief Executive Richard Scudamore said: 'The Premier League and our member clubs believe that everyone should be able to participate in, watch and enjoy sport - whoever they are and whatever their background.
'When the Sports Charter to tackle homophobia and transphobia in sport was launched in 2011 the Premier League signed it and we are pleased to re-affirm our commitment to it today with each of our clubs signing it individually.'
Show your support on facebook
The Charter is open to leagues, teams, and individual participants and spectators. You can show your support by 'liking' a Facebook page at http://www.facebook.com/lgbtsportcharter
Published 2 February 2012