Premier League and DEC unite to tackle famine
The Premier League backs the DEC East Africa crisis appeal and announces a weekend of action at clubs across England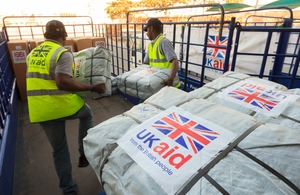 The Premier League today backed the DEC East Africa crisis appeal as it announced a weekend of action at top flight football clubs across England. 
Video: Footballers Patrick Vieira and Niall Quinn met with the Chancellor George Osborne and fundraising schoolchildren to help launch Tackle Famine.
Football supporters will be able to text a number displayed on advertising boards, in match-day programmes and on players' training bibs to donate £5 to the DEC East Africa Crisis appeal on the weekend of 26 November. 
Their donations will go towards helping the 13 million people in Ethiopia, Kenya and Somalia who face hunger in the crisis which was brought on by drought. 
At an event in Downing Street, George Osborne was joined by Patrick Vieira, Niall Quinn, Premier League Chief Executive Richard Scudamore and Clive Jones, chair of the DEC appeal.
Patrick Vieira and Niall Quinn took part in a football match with local primary school children in Downing Street before Richard Scudamore announced the partnership with DEC at a reception attended by the Chancellor. 
Chancellor George Osborne said:
The situation in the Horn of Africa remains desperate and it is great to see the Premier League getting involved to help. 

Football fans up and down the country will be able to make a difference and I wanted to do everything I could to support this idea.
Richard Scudamore said:
The Premier League and its clubs have a long tradition of partnership with African football, and as a League we have many programmes that support grassroots sporting development in the continent and provide lasting legacy. 

We recognise that it is vital the DEC Unite Appeal for East Africa remains at the forefront of people's minds. We hope our weekend of action will bring it to the attention of the millions of fans who follow the Premier League each week and that their donations can greatly extend the excellent work of the UK Government.
Clive Jones CBE, chair of DEC, said:
With 'Tackle Famine' the UK is continuing the international leadership it has shown in responding to the crisis in East Africa.

There is a huge amount of work still to be done so we are delighted to have the Premier League, leading clubs and so many footballing stars on our side.
So far the British public has donated £72 million to DEC through its East Africa Crisis Appeal.
The UK Government has fed 2.4 million people in the region since 1 July and is providing vaccinations to a further 2 million and clean water and sanitation to 1.2 million. 
The Premier League has agreed to donate its match-day advertising space to the DEC appeal on Saturday 26th, Sunday 27th and Monday 28th November. 
This means the DEC appeal text number will appear in place of Premier League advertising on advertising boards, in match-day programmes and on players' training bibs. 
Clubs will also promote the appeal through their websites with links to DEC's appeal page.
Published 14 November 2011