Press release
Preferred bidder for Lydney Harbour announced
Following a lengthy selection process the Environment Agency has identified a preferred bidder to become the new custodian of Lydney Harbour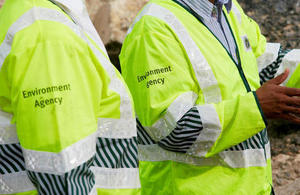 The Environment Agency were fortunate enough to have 2 strong local bidders who had distinct and prosperous visions for the harbour and its place in the surrounding area. They would like to thank them both for their commitment and dedication to a very competitive selection process.
After careful consideration and independent assessment the Environment Agency chose Mr Richard Cook of Severn and Wye Smokery as the preferred bidder. The visionary and exciting proposals for the harbour are linked to a wider regeneration initiative for this area of Lydney and will offer many opportunities for the future of the town. The Environment Agency will now begin negotiations around the details of transfer and the associated harbour authority responsibilities. This process is expected to take a while to complete. In the meantime the Environment Agency will continue to manage and operate the harbour and work closely with Mr Cook to ensure solid foundations are put in place to support his proposals and secure a smooth transition.
Mr Cook will be invited to a meeting of the Coastal Community Stakeholder Team to share his vision and plans for the harbour and the surrounding area.
The Environment Agency will continue to protect the community through the operation and maintenance of the flood risk assets on site throughout the transfer to the new custodian, and once the transfer has been completed.
Ian Jones, Area Environment Manager said:
We are committed to supporting the economic regeneration of the Lydney area through our involvement in the Lydney Coastal Community Team. We see transferring the Harbour as an essential step in revitalising the area and ensuring that all users retain the ability to use the Harbour and its surroundings with enhanced facilities. We look forward to working closely with Mr Cook over the coming months.
Mr Cook added:
Severn and Wye Smokery are very honoured and excited to have been chosen as the preferred bidder as custodians of Lydney Harbour.

We will now engage with local communities, council representatives and Environment Agency to help develop and promote what we believe to be one of the Forest of Dean's hidden gems, and revitalize an asset that will encourage people to come and enjoy one the Severn Estuary's historic and scenic landmarks.
Published 6 July 2016