World news story
Pre-departure briefing for Chevening scholars from Turkmenistan
British Chargé d'Affaires hosted pre-departure briefing and reception at his residence.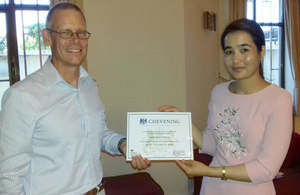 After a year-long selection process, the Chevening team has finally identified the two strongest candidates from Turkmenistan, awarding Chevening Scholarships for a one year post graduate study at a renowned British University.
As British Chargé d'Affaires, Mr David Pert said during the briefing that Chevening is a prestigious UK government flagship programme, and was pleased that the two lucky finalists from Turkmenistan will get the opportunity of experiencing British life and diverse culture in the UK during this academic year.
Ms Mahrijemal Eyupova will study MSc in Psychological Studies at the University of Aberdeen and Mr Eldar Yusupov will study MSc in Human Resource Management at Loughborough University. Members of the Chevening alumni group from previous years were also invited to the dinner to share their experiences and give advice.
Chevening has been offered in Turkmenistan for more than 15 years now and the total number of alumni will reach almost 70 when last year's 4 scholars return later in the year.
The British Embassy in Ashgabat is currently in the process of advertising the Chevening scholarship for the next academic year and applications are accepted online until 7 November 2017. We welcome applications from all potential candidates who are interested in participating in the programme.
Published 1 September 2017