Press release
Potato blighted by ignorance
Potato Day is an opportunity to clear up some of the myths around potatoes.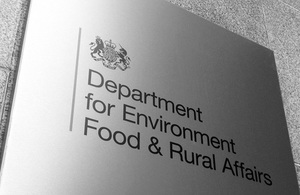 Food and Farming Minister, Jim Paice, will be celebrating Potato Day on 14 October with a visit to Frogmary Green Farm in Somerset, a farm which works to educate children about potatoes.
Potato Day is an opportunity to clear up some of the myths around potatoes. Potatoes are increasingly being knocked off menus by time-conscious younger cooks who don't appreciate their nutritional value; over the past 20 years there has been a 40 per cent drop in the number of fresh potatoes eaten in British homes.
Jim Paice said:
"Potato Day is a great opportunity to clear up the myth that potatoes are unhealthy. Potatoes are good value, versatile and healthy. Fresh potatoes don't need to be manufactured like pasta or bread so they have less impact on the planet."
Jim Paice will join local children from South Petherton Junior School in South Petherton, Somerset as they see how potatoes grow and learn how to prepare a healthy potato dish.
Potatoes are a great source of energy, fibre, vitamins C, B1 and B6 including folic acid and potassium, magnesium, iron and zinc. However a recent survey by the Potato Council revealed that:
one in ten adults didn't think that potatoes contained any vitamins or nutrients,
less than one in five people realised that potatoes contain vitamin C.
In fact, the average British person gets 15 per cent of their annual intake of vitamin C from potatoes.
Nearly 3,000 potato farmers grow over six million tonnes of potatoes in Britain each year, the majority of which are eaten here in Britain. When asked, more than 80 per cent of consumers want to support home-grown food, but there is some confusion about what British farmers produce. Half of consumers think rice is being grown in Britain, and three quarters of consumers think that British farmers grow wheat for pasta - in fact, neither is true.
Potato Day marks the launch of the Many Faces of Potatoes campaign, which aims to tackle misconceptions amongst younger consumers and show that potatoes can be convenient and healthy. The potato industry is benefiting from European Union funding following a joint application by the UK, France and Belgium for a campaign to promote fresh potatoes.
Notes
Statistics taken from One Poll Survey of 2,000 respondents conducted online June 2010 conducted on behalf of Potato Council, a division of the Agriculture and Horticulture Development Board.
Potato Day, organised by Potato Council, marks the start of the Many Faces of Potatoes campaign: a European programme for the generic promotion of fresh potatoes across Great Britain, France and Belgium which has received EU co-financing with the following organisations: * AHDB, Potato Council division, for United Kingdom (Great Britain) * CNIPT for France * VLAM for Flanders (Belgium) * APAQ-W for Wallonia (Belgium)
More information on the health value of potatoes is available at www.eatwell.gov.uk/healthydiet/nutritionessentials/starchfoods/
Published 14 October 2010