Postcard from the field: South Africa
In his last instalment Peter Kerby takes a look at what the World Cup will mean for South Africa beyond the final whistle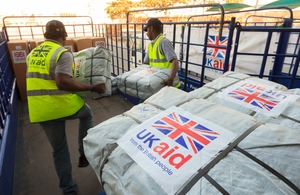 Peter Kerby, deputy head of office, DFID Southern Africa
Woke up early on Sunday to a cold wintry morning. A couple of strong coffees helped me out of my slumber and onto the couch to read the day's papers. The Sunday Times in South Africa doesn't just share its name with a British newspaper - it also has twelve supplements. And football was all over them, just like it has been all over this country for months. Four stories struck me.
First, the dismay and anger at Ghana losing out to the hands of Luis Suarez. 'The hand of God', said Suarez. But the South African media and people had a very different take on the last African team falling so unfairly. Second, the elation at Brazil being taken out by the Netherlands - another country with strong links to South Africa. And in both of these cases the feeling shared by South Africa as one nation, one of the marvellous achievements of this World Cup.
Third, more than ever before, several stories pushing a quiet, confident conclusion that this World Cup really has been a success for the country and continent. Transport has worked. The stadiums have been great. The games have been models of high-spirited, good-natured family entertainment - not to mention some brilliant football. The exuberant opening of this tournament now giving way to calm satisfaction and pride that it was all working out - very well indeed.
Quarter finals done, we're now three quarters of the way there. For the poor world and organisations like DFID there is another 75% milestone to consider. Another major global event is only a few months down the line. But this time the game isn't football, it's dealing with poverty, disease and suffering.
Back in 2000, half-way between World Cup victories by France (1998) and Brazil (2002), world leaders signed up to a set of high level targets for beating poverty - the Millennium Development Goals (or MDGs). No-one claims these were perfect, but they succeeded in creating a common language for a common struggle - tackling issues around global growth, health, education, climate change and more. And that common set of aims helped countries pull together around them.
In September this year, the UN will hold a meeting of world leaders to assess progress towards the MDGs - with just five years to go to the 2020 target dates. As part of the run up, a report of fifty country studies of progress has just been released.
This isn't just about aid. We know that UK aid alone has lifted 3 million people out of poverty a year. Protected poor families from malaria with over 70 million bed nets over the past ten years. And reached 1.3 million people with anti-retroviral drugs, helping them live with HIV. But it's also about many wider factors such as debt, trade, technology, climate change and our domestic policies. Issues which have become as central to the UK's fight against poverty as traditional projects.
Perhaps not surprisingly, the new report finds areas of great success - and some failures. But rather than a moment for pointing fingers so late in the game, it's a moment for the world to do much more of what works - and stop what doesn't. And fast.
Oh. Did I say there were four Sunday Times stories which caught my eye? The fourth is in the Review section (page 314). It's a cartoon. A South African football official is announcing 'and here we're hosting a side event just for the British tabloids…'. In contrast to jubilant crowds outside, journalists inside the marquee are 'eating their words' - chewing up their old newspaper headlines of 'shambles', 'bloodbath' and 'fear'. Well done South Africa! Next stop the final.
Published 6 July 2010