Postcard from the field: South Africa
As the World Cup kicks off, South Africa reaches fever pitch. DFID's Peter Kerby reports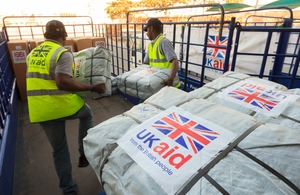 Peter Kerby, deputy head of office, DFID Southern Africa
Many said it couldn't be done - but it has. South Africa, this ambitious emerging economy, bid for World Cup 2010. And succeeded in winning the first ever tournament to happen on African soil. Against the odds, they have pulled everything together in time. Stadiums, roads, trains… it's all looking good.
Today, as I write from Pretoria, football is everywhere. And that's before the games even begin. Flags lining the streets. Ubiquitous yellow 'bafana bafana' (the local name for the South African national team) shirts replacing suits and overalls on 'Football Fridays'.
Vuvuzelas everywhere (if you still need to ask, look it up!). Football fever is here, as the national newspaper headlines announce.
But it's worth pausing for a moment. What does all this mean beyond 22 men kicking a ball around in a field? South African friends, taxi drivers and waitresses alike largely concur. It means a lot more.
South Africa still has many problems - and the legacy of apartheid is everywhere. Despite good economic performance, inequalities are deep - and it will take a long time to sort out. So Britain is working with South Africa to help do this. For example, by tackling HIV and creating jobs for the many people who are unemployed.
But perhaps the greatest value of Britain working in South Africa is for us to be partners on the regional and global stage. Like working together to free up trade across the region - helping countries even poorer than SA to grow out of poverty. Like negotiating together for a better international deal on climate change. A far cry from the old out-dated model of paternalistic aid. I'll come back to some to this in future updates.
What I'm hearing here day-in and day-out is that the sense of national pride runs deeper than flags and footballs. This year is an opportunity to show the world that South Africa is a serious global player. That South Africa has been through some very bad times - and still faces challenges - but has held its society and economy together. And an opportunity to challenge any preconceptions around the globe about what Africa is, what it can be - and what it will be.
I can't claim to be a football fanatic. My obsession with Manchester City was overtaken by other interests when I was in my teens. But the sense of excitement, for all of the reasons above, is getting to us all.
Earlier this week, I visited the England training site in Rustenberg. It was an event organised by the Global School Partnerships, bringing South African and British children together to watch a friendly match and meet the players. Unlike the kids, I'm not one to be star-struck by Beckham and Rooney, but there was certainly a thrill about it - just feeling part of something huge, and sharing that with South African and British friends alike. As I said, this is much bigger than football.
Peter Kerby
June 2010
Get the flash player here: http://www.adobe.com/flashplayer
Published 10 June 2010