News story
Postal Services Bill completes passage through Commons
This is the first time that legislation to enable Royal Mail to benefit from private capital has been approved by MPs. Business Secretary Vince…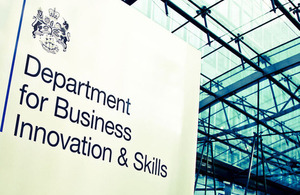 This is the first time that legislation to enable Royal Mail to benefit from private capital has been approved by MPs.
Business Secretary Vince Cable said:
"I am delighted that our proposals have passed through the Commons. Upon taking office the Government realised it had to move swiftly to tackle the challenges facing Royal Mail and the Post Office to ensure the future of the important services they both provide. We're absolutely determined to secure the future of these two proud institutions."
Minister for Postal Affairs Edward Davey said:
"Today is good news for everyone who wants to see a successful Royal Mail and Post Office network.
"MPs from all parties have taken a fine tooth comb to our plans and the many hours of rigorous debate have helped to improve our legislation. We're convinced that our approach is the right one and look forward to the debates which will soon take place in the Lords."
Today was the first chance for MPs to debate the amendment that the Government introduced on Monday that will ensure that the Queen's head remains on stamps regardless of who owns the company in the future.
The Bill includes the following proposals:
Royal Mail
The requirements of the universal postal service - collection and delivery of post six days a week at uniform, affordable prices are written into the Bill. The Government has no intention of downgrading them.
Royal Mail will be able to benefit from an injection of private capital - ending the dependence on funding from the taxpayer and bringing new commercial disciplines into the business.
Alongside private sector investment:

At least 10% of the shares in Royal Mail will go to its employees in the future. This will be the largest employee share scheme of any privatisation, larger than British Telecom, British Gas or British Airways.
Royal Mail will be relieved of its enormous historic pension deficit by the Government.

As part of a general reform of the regulatory regime for mail, the existing regulator, Postcomm, will be replaced by Ofcom, the communications regulator, with the Bill providing for the transfer of Postcomm's regulatory responsibility and its staff to Ofcom.
Post Office
The network of around 11,500 Post Office branches is not for sale and there will be no programme of closures under this Government. Instead there is £1.34 billion of new funding to modernise the network and safeguard its future, making it a stronger partner for Royal Mail.
Under the proposals contained in the Bill, the Post Office could be converted into a mutual structure as part of innovative new plans to hand over its ownership and running to employees, sub postmasters and local communities.
---
The Bill will now be considered by the Lords. It is scheduled to be introduced and have its first reading tomorrow, Thursday 13 January.
---
Notes to editors
Notes to Editors
Contact Information
Name BIS Press Office Job Title
Division COI Phone
Fax
Mobile
Email NDS.BIS@coi.gsi.gov.uk
Name Joe Upton Job Title
Division Department for Business, Innovation and Skills Phone 020 7215 5959 Fax
Mobile
Email Joe.Upton@bis.gsi.gov.uk
Published 12 January 2011