News story
Post Office could be mutualised
The announcement was made as the Government put its plans before Parliament to secure vibrant futures for two cornerstones of British life -…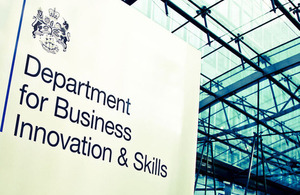 The announcement was made as the Government put its plans before Parliament to secure vibrant futures for two cornerstones of British life - the Royal Mail and the Post Office.
Post Office Ltd is currently 100% owned by the Government and will not be for sale. The Postal Services Bill, which will be scrutinised and debated by Parliament in the coming months, proposes powers to transfer ownership to a mutual. Embodying the principles of the Government's Big Society agenda, this proposal would give those who know the Post Office best - subpostmasters, staff and the communities they serve - a say in how the Post Office is run. The Bill includes protections to ensure that the Post Office will always be run for the public benefit.
Business Secretary Vince Cable said:
"Post Offices continue to play a vital social role in the heart of local communities and remain an incredibly important resource. There will be no repeat of the previous Government's closure programmes.
"But I'm concerned that the current structure of the company is holding the network back. The interests of the central holding company and locally owned branches are not always aligned. So, for example, subpostmasters are pitted against Post Office Ltd when they negotiate annual pay rates. And they fear Post Office Ltd expanding online because they worry it will drive customers away from their stores and that they won't share in the profits.
"I want to start a conversation about how it is run in the future, but it seems to me that the Post Office is ideally suited to a John Lewis or Co-operative Group style structure - where employees, sub postmasters and communities get a greater say in how the company is run. This would be the Big Society in action.
"We're already seeing how well the mutual model can work at a local level - across the country there are a growing number of examples of community groups, charities and local people coming together to provide Post Office services in their area.
"A change at a national level would empower those that know the Post Office best and give them more of a stake in its future. It could deliver the common sense of purpose needed to provide a vibrant future for the network."
Co-operatives UK has been asked to explore options for creating a mutualised Post Office, reporting back to BIS Ministers next spring. Before any move to a mutual structure there would also be a full public consultation.
__
Peter Hunt, the Chief Executive of Mutuo, said:
"This proposal could help to secure the future of the Post Office for the public benefit.
"As a mutual, the Post Office will be able to harness the experience and goodwill of its employees, business partners and its customers.
"Together they will be part of a practical partnership that uses all of their skills to design a Post Office for the years ahead."
The Government is clear that before any changes can be made, the network will need to be put on a more secure financial footing, so that a mutual could build from solid foundations. It believes it is realistic for the Post Office to be in mutual ownership by the end of this Parliament and will be making further announcements on this in due course.
Notes to editors
The Postal Services Bill and an accompanying policy statement which explains the Government's approach have been published today and introduced in Parliament. They can be accessed here http://www.bis.gov.uk/policies/business-sectors/postal-services/postal-services-bill-2010.
2. **Current ownership model:**
Post Office Ltd is 100% owned by the Government.
Around 370 (actual figure is 373) Post Office branches are directly managed by POL. These are called Crown Offices.
The remaining branches are managed on an agency basis either by subpostmasters or franchise partners. Franchise partners include Tesco, SPAR and Londis.
Although a nominated person the "subpostmaster" makes the application and provides the business plan - branches have a variety of different ownership structures.
Individual retail entrepreneurs run the greatest number of branches - however, it is estimated that around 1000 individual Post Offices are run by either a mutual body or a member of a mutual body.
This includes approximately 525 Post Offices in Co-op branches, approximately 200 in Costcutter stores, 240 in NISA stores and 150 in community run shops.
Subpostmasters are not POL employees, but instead have a contract with POL to provide services using their own premises and staff. Generally, subpostmasters receive a fixed payment from POL; this is topped up by a variable payment based on the number of transactions they carry out. Most subpostmasters run their post office business under the same roof as another retail business. In urban areas this is often a newsagent or stationery business. In rural areas it is typically a village shop.
3. **Possible future mutual model:**
There are many different types of mutual structure - any final structure for the Post Office mutual would be subject to public consultation. What follows is an outline of what the structure might look like.
A mutual body - for example a company or cooperative - would be set up and those with an interest in the Post Office could become its members. The Government would then transfer ownership of Post Office Ltd to that body.
Members could then have a say in appointing the Board of Post Office Ltd, agreeing its long-term strategy and sharing in its profits.
The Government would ensure there are clear safeguards in the constitution of that mutual body, protecting the interests of the Post Office. For example, the mutual would have to act for the public benefit by promoting the use by the public of Post Office services (rather than short-term profit-taking). And it would not be able to sell its shares in Post Office Ltd. These protections would be set down in legislation. Further legislation would also be required for any demutualisation.
All of the experts on mutual ownership the Government has consulted have stressed that, for a mutual to work, all interested parties need to agree on the structure adopted. The structure must develop organically rather than be imposed by a "command and control" central Government. So Government will hold a full public consultation before agreeing any final structure for the Post Office mutual.
The Government has already committed to increase its Post Office subsidy to £180m for 2011/12, with funding for future years to be finalised within this autumn's Spending Review.

Co-operatives UK is the national trade body for co-operatives and works to promote, develop and unite co-operative enterprises. For more details see: http://www.uk.coop/about/co-operativesuk

Mutuo is a not for profit society which seeks to promote a better understanding of mutuals and to encourage mutual approaches to business and public policy. For more details see: [http://www.mutuo.co.uk/about/](http://www.mutuo.co.uk/about/)

BIS' online newsroom contains the latest press notices, speeches, as well as video and images for download. It also features an up to date list of BIS press office contacts. See http://www.bis.gov.uk/newsroom for more information.
Notes to Editors
Contact Information
Name BIS Press Office Job Title
Division COI Phone
Fax
Mobile
Email NDS.BIS@coi.gsi.gov.uk
Name Henry Tanner Job Title
Division Department for Business, Innovation and Skills Phone 020 7215 5947 Fax
Mobile
Published 13 October 2010