World news story
Post Cabinet statement and actions
Governor Peter Beckingham chaired the TCI Cabinet meeting at the Hilly Ewing Building, Providenciales, Wednesday 9th April 2014.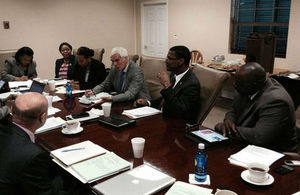 All Ministers were present except the Hon Akierra Misick. At this meeting Cabinet:
Advised the Governor to approve the Draft Immigration Bill 2014 with amendments, and that the Bill be introduced for debate and passage by the House of Assembly;

Approved an amendment to Schedule 8 of the Immigration Regulations to remove work permit fees payable by Registered Institutions for persons they are seeking to employ or are employed as teachers. To date, these fees for persons working as teachers in the private sector continue not to be charged as a means of supporting and developing the education sector. In addition, the amendment regulations make provision for the exemption of persons employed by registered NPOs;

Advised the Governor to renew the lease for the rental of Mr. Arlington Musgrove's building 60611/111 & 112 for use as a Detention Centre in Providenciales to detain illegal immigrants until they are processed and repatriated back to their respective abodes;

Advised the Governor to approve an amendment to the Business License Regulations, Schedule 1 (Regulation 5) Form 1: Application for the Renewal of a Business License. The form is being amended following the restructuring of the Business License categories and fees effective 1st April 2014;

Discussed proposals for the establishment of a Designated Resort Management and Rental Bill received from a group of resort operators on Providenciales concerned about the possible negative impact on product quality by individual owners managing rental units within resort establishments. Their proposals are stated as following the approach taken in other jurisdictions. While the proposals will be considered in good faith by the Government, Cabinet made it clear that they are not the proposals of the Turks and Caicos Islands Government and that Cabinet has not yet taken a position on the matter. Detailed proposals will be considered by Cabinet in due course.
Further information on these matters will be provided by Ministers in due course.
Published 10 April 2014