Portsmouth Naval Base hosts Olympic Flame
Portsmouth took centre stage yesterday as the Olympic Flame continued its 70-day tour of the UK.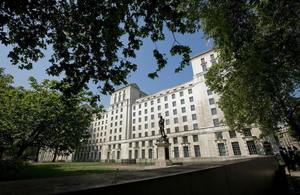 Colette Hayes was passed the Olympic Flame by Mazie Watson alongside HMS Victory as its route through Portsmouth took on a distinctive Navy flavour yesterday as it arrived in the city by sea from Gosport.
Royal Navy patrol vessel HMS Exploit and two Second World War motorboats escorted the Gosport Ferry as it brought the Flame across the harbour into Portsmouth Historic Dockyard.
Greeting the torch-bearing party as it stepped ashore were Captain of Portsmouth Naval Base, Captain Jeremy Rigby, Base Services Manager Commander David Hilton, and Chief Executive of Portsmouth Naval Base Property Trust, Peter Goodship.
Watched by hundreds of spectators, the Flame then made its way the short distance to HMS Victory's starboard arena where it changed hands again for the next leg of its journey through the city.
On hand to witness the exchange against the backdrop of HMS Victory were the Second Sea Lord, Vice Admiral Sir Charles Montgomery, and the Naval Base Commander, Commodore Tony Radakin.
They were accompanied by the Lord Mayor of Portsmouth, Councillor Frank Jonas, and other civic dignitaries.
Commodore Radakin said:
This has been an historic day for local families and a delight to host this with our local dignitaries. It was great to see so many people in the naval base supporting the water leg of the torch's journey and reflecting Portsmouth and the Royal Navy's importance as an island nation.
Jacquie Shaw, Acting Manager Director for Portsmouth Historic Dockyard, added:
Being the arrival location for the Olympic Torch into Portsmouth has been a hugely memorable event and a fantastic way to showcase our unique naval attractions, past and present, as well as highlighting the talent in our local community to a worldwide audience.
Please tell us what you think about government news on the web by filling in the short survey at Related Links.
Published 16 July 2012