Ports tax rebate saving threatened industry
Local Government Minister Bob Neill today reaffirmed the industry saving action taken by the new Government to help many port-based businesses…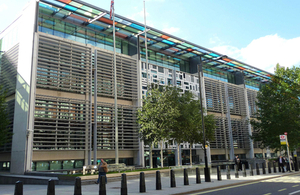 Local Government Minister Bob Neill today reaffirmed the industry saving action taken by the new Government to help many port-based businesses that faced the very real threat of balance sheet insolvency after being hit with significant and unexpected port taxes in 2008. 
Following interest raised in Parliament the minister has today written to local MPs reiterating the lifeline that the tax rebate decision has been given to many local port-based companies in their area.
Many job cuts have been spared and ratepayers occupying as many as 700 port properties could see the financial burden lifted as a result of the Coalition's emergency Budget £175m commitment to waive backdated business rates for all eligible properties.
Port businesses campaigned against the backdated tax because it was seriously damaging the industry's competitive advantage. Following a recent meeting with Port business representatives the industry say they and their customers can now can look forward to the future with confidence, unburdened from the imposition of these unfair taxes.
Bob Neill said:
Our decision to waive and repay these unexpected port-taxes is a victory for common sense, saving jobs and freeing firms from balance sheet insolvency. Many companies across the country are now able to move forward confidently, unburdened by the crippling debts this tax-grab landed on hundreds of businesses.

Despite the financial situation that we inherited, we have honoured our promise to find a permanent solution to the problem. We've already frozen any bills and are working hard to legislate for their cancellation at the earliest opportunity.
Notes to Editors
Andrew Finfer, acting on behalf of affected ports businesses said:
Port businesses welcome the Chancellor's commitment to abolish and repay the unfair backdated liability to pay rates that has caused so much damage to port businesses. The businesses and their customers can look forward with confidence to the future unburdened from and no longer distracted by the imposition of unfair taxes that have damaged the industry's competitive advantage.
Colin Littler, Chairman of NW Trading Ltd, said:
One of the big things this has changed for us is the ability to invest in our company. As a small business the backdated rates demands wiped out 80 per cent of our balance sheet, which took us virtually to the edge. As a result of this change our balance sheet is now set to double, and we can now employ more people.
Jens Nielsen, CEO of shipping company DFDS Tor Line, said:
For all of us this has been a difficult campaign and there were times when we were doubting that we would get the relief we were crying out for. But it's been delivered and it's greatly appreciated. This is a weight off of all our shoulders and we can now see our businesses moving forward.
Current Local Authority estimate of backdated bills set to be waived or repaid in English Ports include:
Twitter
Keep up to date with the Department by following us on Twitter (external link).
Media enquiries
Visit our newsroom contacts page for media enquiry contact details.
Published 20 July 2010