Pope delivers civil society address
On day two of his historic visit to the UK, Pope Benedict XVI spoke to an audience of dignitaries at Westminster Hall in the Palace of Westminster.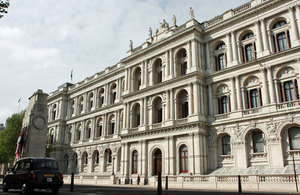 Speaking to an audience of politicians, diplomatic corps, academics and business leaders, the Pope said:
"Recent cooperation between the United Kingdom and the Holy See illustrates well how much progress has been made, in the years that have passed since the establishment of bilateral diplomatic relations, in promoting throughout the world the many core values that we share. I hope and pray that this relationship will continue to bear fruit, and that it will be mirrored in a growing acceptance of the need for dialogue and respect at every level of society between the world of reason and the world of faith.
"I am convinced that, within this country too, there are many areas in which the Church and the public authorities can work together for the good of citizens, in harmony with this Parliament's historic practice of invoking the Spirit's guidance upon those who seek to improve the conditions of all mankind. For such cooperation to be possible, religious bodies - including institutions linked to the Catholic Church - need to be free to act in accordance with their own principles and specific convictions based upon the faith and the official teaching of the Church. In this way, such basic rights as religious freedom, freedom of conscience and freedom of association are guaranteed."
The audience included Deputy Prime Minister Nick Clegg, Foreign Secretary William Hague, Chancellor George Osborne and other Cabinet Ministers. Former Prime Ministers including Gordon Brown, Tony Blair, John Major and Margaret Thatcher were also in attendance.
Earlier today, the Pope led a celebration of Catholic education at St Mary's University College in Twickenham. This afternoon, he met Rowan Williams, Archbishop of Canterbury at Lambeth Palace and led joint prayers with him in Westminster Abbey.
This evening Foreign Secretary William Hague is hosting a dinner on 17 September for the Holy See delegation accompanying the Pope on his official visit to the UK, headed by the Cardinal Secretary of State, H.E. Cardinal Bertone. The event provided an opportunity for policy discussions on a number of areas such as international development, climate change, education and the role of faith in society. Her Majesty's Government and the Holy See delegation discussed a number of areas of shared interest and produced a Joint Communique.
Published 17 September 2010