World news story
Polish-British Belvedere Forum takes place in London
Over 200 representatives of Polish and British civil society attended the second edition of the Forum in London 19/20 February 2018.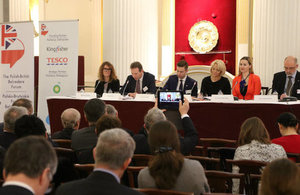 The second annual Polish-British Belvedere Forum took place in London 19/20 February 2018. This year's theme was: "The UK and Poland in a changing Europe: coming together or moving apart?"
The forum aims to deepen the dialogue between British and Polish civil society by bringing together a diverse group of mainly non-governmental actors from both countries and to strengthen the extensive partnership between our countries. It has never been so important to celebrate the broad spectrum of British-Polish connections. While the initiative is focused on our links through civil society, it enjoys the full backing of both governments and follows an agreement by Prime Ministers in November 2016 to complement annual, Polish-British intergovernmental consultations.
Following the success of the inaugural forum in Warsaw in 2017, the event, which this year was held in the historic venues of Mansion House and Lancaster House in London, has doubled in size. More than 200 invited participants with strong Polish-British connections and wide ranging backgrounds, including business, academia, think-tanks, politics, culture, media and the Polish diaspora in the UK, took part in discussions on foreign affairs, history, migration, global trade, new technologies and civil society engagement.
Minister of State for Europe and the Americas, Sir Alan Duncan KCMG, opened the Forum and reaffirmed vitality of Polish-British ties:
I am confident that our strengthened relationship means that our countries are well prepared to face the challenges – and to take advantage of the opportunities – that lie ahead.
Published 27 March 2018