Polio: Britain to vaccinate 29 million children
The extra support was welcomed as key step towards the eradication of polio by the UK's Development Secretary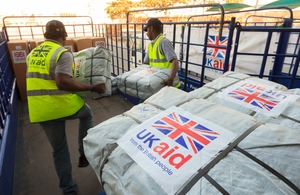 The UK's contribution to a global polio vaccination programme will be stepped up to reach a further 29 million children around the world.
The support was welcomed as key step towards the eradication of polio by Development Secretary Justine Greening at the UN General Assembly.
The latest UK aid for the Global Polio Eradication Initiative (GPEI) continues the pressure from the British Government for international partners to sign up and make similar commitments to tackling polio worldwide.
The announcement comes ahead of today's high level meeting in New York, which comes in response to the World Health Assembly's declaration of polio eradication as a global public health emergency in May 2012.
International Development Secretary Justine Greening said:
We are close to living in a polio-free world and this commitment to help vaccinate a further 29 million children gets us a big step nearer to achieving that goal.

The Prime Minister's leadership has already persuaded countries and other funders to commit an extra £200 million of support since 2011. The greater the number of funders and countries joining the fight, the closer we get to realising a future in which no child is paralysed by this disease. The UK is meeting its commitments.
The funding will help the Global Polio Eradication Initiative conduct immunisation activities. In the next two years, more than three billion doses of oral polio vaccine will be needed to immunise young children. Funding is also required for activities such as surveillance and technical assistance.
Since 1988, polio cases have been reduced by more than 99% and the disease is now close to being only the second in history - after smallpox - to be wiped out.
Polio remains endemic in Nigeria, Afghanistan and Pakistan and has re-infected several other countries causing pain and suffering to very young children.
Published 27 September 2012