News story
Policing Minister urges police forces to take up new mobile drug testing device
The Policing Minster formally announced the first mobile drug testing device at the Roads Policing Conference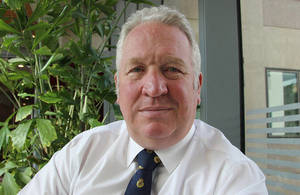 Today (15 January), Policing Minister Mike Penning formally announced the type approval of the first mobile drug testing device at the Roads Policing Conference.
The Securetec DrugWipe 3S device known as 'Drugwipe' is the first portable device that can detect the presence of cannabis and cocaine – two of the most common substances used by drug drivers.
Drugwipe is a disposable detection device that works by analysing a small quantity of saliva. The results are indicated by the appearance of lines on the device (similar to a pregnancy test) within eight minutes of starting the test. Following a positive reading, the police will take the individual to the police station for a blood sample, which will be used in any subsequent prosecution.
Drug-driving takes a terrible toll on our roads. It is estimated as many as 200 people a year are killed by drivers impaired by drugs.
This groundbreaking new device will allow the police to more quickly identify those drivers potentially under the influence of cocaine or cannabis and enable the taking of an evidential blood test without the need for a doctor's authorisation.
Drugwipe can be used to enforce the existing offence of driving whilst impaired and will help police when the new drug driving offence comes into force in March 2015. The penalty under the new offence will be 12 months disqualification, a fine up to £5,000 and up to six months in prison or both.
The new law sets limits for eight illegal drugs at very low levels to tackle illegal drug use and driving and is the biggest shake-up of drug driving laws for 85 years.
Policing Minister Mike Penning said:
Drug drivers are a deadly menace and must be stopped. It has long been my ambition as Roads Safety Minister and now as Minister for Policing to take further action on drug driving.

Those who get behind the wheel while under the influence of drugs not only put their own lives at risk, but also those of innocent pedestrians, motorists and their passengers.

That is why I'm delighted to announce that I have type approved the first mobile drug testing device for use by the police.

This device is a big step towards bringing more drug driving criminals to justice.
The mobile device is now available to forces for purchase and builds on the existing capability to screen for drug drivers in police stations using the Draeger Drug Test 5000, which was type approved for detection of cannabis in December 2012.
Published 15 January 2015