Police officer who blackmailed member of the public has sentence increased
Police officer has sentence increased after Solicitor General Robert Buckland QC MP referred his original sentence to the Court of Appeal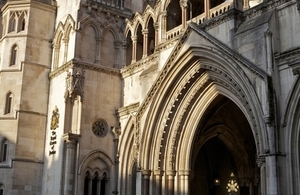 A police officer who blackmailed a man after photographing him visiting a sex worker has had his prison sentence increased after it was referred to the Court of Appeal as unduly lenient.
Gareth Suffling was a Detective Constable at Bedfordshire police when he parked close to the place of work of a sex worker in Luton and took photos of a man arriving and leaving.
Suffling, 36, put the victim's car registration plate through the police computer to track down where he lived and blackmailed him, leaving a note and a copy of the photographs. The note told him he must pay £1,000 or the pictures would be sent to family members and neighbours.
The victim reported the blackmail to the police where Suffling was part of the investigating team. Officers noticed he was acting strangely and a search of the police computer found he had already searched for the victim's details under the pretence of dangerous driving.
The blackmail letter was also found on Suffling's computer after he failed to fully delete it.
He was originally sentenced to 18 months in prison for blackmail and misconduct in public office at St Albans Crown Court in September. He will now serve 3 years in prison.
The Solicitor General Robert Buckland QC MP referred the original sentence to the Court of Appeal under the Unduly Lenient Sentence scheme. Speaking after the hearing the Solicitor General said:
Suffling was in a position of trust when he carried out these offences and his letter of blackmail was nothing short of menacing. This increased prison sentence shows that anyone caught using their position in public office to commit a crime will be punished.
Published 30 November 2017