Poland v Scotland Travel Advice
Travel advice for Scotland fans travelling to Warsaw for the Poland v Scotland match on Tuesday 14 October.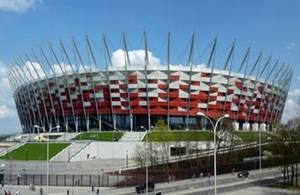 Date: 14 October 2014 (Tuesday)
Venue: The National Stadium in Warsaw
Kickoff: 20:45 (local time)
Address: Al. Ks. J. Poniatowskiego 1, 03-901 Warsaw
Website: http://en.stadionnarodowy.org.pl/
As well as the following advice, check out our travel advice for Poland and this handy Fan Guide for Scottish supporters prepared by the Polish Football Association (PZPN).
Passports and visas
you don't need a visa to travel to Poland but your passport should be valid for at least the length of your stay
remember your European Health Insurance Card (EHIC) but also take out travel insurance, even if you're only going for one night – it could save you a lot of money if you get into difficulties
keep your passport safe and keep separate copies of it when travelling
leave a photocopy of your passport and itinerary with a friend or a relative at home
if you lose your passport (stolen passports must be reported to the local police) you will need to apply to the British Embassy on the next working day for an Emergency Travel Document (ETD) to return to the UK; this could mean that you miss your flight home and need to pay for another flight in addition to paying for the ETD
Getting to the stadium
The Stadium is located about 2 miles from the city centre. You can get to the stadium by tram No. 7, 8, 9, 22, 24, 25, 77, or by bus No. 117, 158, 507, 517, 521 (Rondo Waszyngtona or Al. Zieleniecka stop) and SKM trains S1, S2, or S3.
The Polish FA's Fan Guide for Scottish supporters states that match tickets issued by the Polish FA entitle you to use public transport in the area of Warsaw city (buses ZTM, trams ZTM, metro, SKM trains) for free from 6am on the match day morning until 1am on the night of the match. At all other times you will need to buy a ticket.
If you use public transport in Warsaw, always buy full price tickets. Students are entitled to a reduced fare only when purchasing long-term tickets (30 or 90 days). Remember that public transport tickets must be validated at the start of a journey.
The SKM trains will transport you from Chopin Airport directly to the National Stadium, via the city centre.
A transfer from Modlin Airport to Warsaw (about 25 miles) is easiest by shuttle bus (ModlinBus) which circulates between the airport and the city centre. A taxi, depending on the company and traffic, can cost £30- £40. Use only legitimate taxis. Avoid taxis that do not have company names and phone numbers on the roof and on the side doors. Always ask for a printed receipt.
At the stadium
The gates open 3 hours before kick-off. Fans are encouraged to get to the stadium early as possible as entry is by bar-coded ticket only and scanning takes some time.
Gate No. 10 is dedicated to Scottish fans. Please refer to your match ticket for gate, block, row and seat number details. Supporters with reduced mobility are advised to enter through Gate No. 1.
A search by security staff will be made before entering the stadium.
After the match, visiting fans are likely to be kept within the away section for around 10-20 minutes. Announcements in English will be made to keep you updated.
No alcohol is allowed at the match. Fans who are clearly under the influence of alcohol will be refused entry.
The following items will not be allowed into the stadium (this list may not be exhaustive): weapons, potential weapons, fireworks, drinks, alcohol, drugs, flag poles over 1m, flags over 1.5 x 2m, large cameras, animals, promotional material, spray cans, luggage, toilet/kitchen rolls and megaphones.
Tips
watch out for pickpockets in all crowded places, particularly on trams and buses and at railway stations
jaywalking is an offence in Poland; you may be fined
do not leave food or drinks unattended in clubs and pubs
do not leave your luggage unattended
it is prohibited to drink alcohol in the streets
if the police or City Guards find you in a drunken state, either in the street or other public place, you may be taken to a drying-out clinic; you will not be released until you have sobered up, which could mean an overnight stay for which you will be charged
Contact the British Embassy in Warsaw
British Embassy Warsaw
Consular Section
ul. Kawalerii 12
00-468 Warsaw
Tel: (0048) 22 311 0000
Fax: (0048) 22 311 0311
Opening hours: 8:30-16:30 (Mon-Friday)
Public opening hours are by appointment only (except in the case of an emergency when consular staff will exceptionally see customers without an appointment).
In the event of an emergency when the Embassy is closed, you can call the above number where you will be connected to the Global Response Centre of the Foreign and Commonwealth Office.
Emergency services numbers
General Emergency Number: 112
Police: 997 or 112
Ambulance: 999 or 112
Fire: 998 or 112
(Photo above from Przemyslaw Jahr/Wikimedia Commons)
Published 10 October 2014