Podcast marks the 20th anniversary of Lebanon hostage release
British journalist John McCarthy was released in 1991 after more than five years as a hostage in Lebanon. Mark Watchorn talks about the release in a Foreign Office podcast.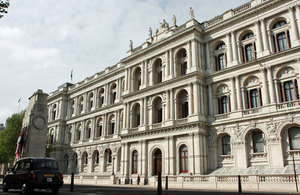 Mark Watchorn was based at the British Embassy in Syria at the time, and assisted with the release of John McCarthy.
During the podcast, Mark describes the "most exhilarating and brilliant day" of his career. He explains the role he took that day, including speaking with John in the embassy gardens and how he was able to provide some of his own clothing for John to wear for the journey home.
Mark's eyewitness account of the days events provide an insight into the varied and important work carried out by British Embassies.
You can download the podcast via RSS or iTunes, or listen below.
Release of John McCarthy - August 1991 by Foreignoffice on Mixcloud
Published 8 August 2011