Podcast: 1989 Hungary/Austria border crossings
In the latest history podcast, Diplomat Chris Greenwood remembers his role in reporting the border crossings between Hungary and Austria - one of the major contributing factors to the collapse of East Germany and the Berlin Wall.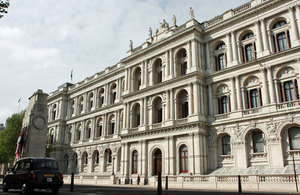 Chris Greenwood was posted to Budapest, Hungary, from 1988-1991 as Third Secretary, Chancery.
In June 1989, he was asked by the British Ambassador to head straight out to the border crossing at Hegyeshalom, which is the closest Hungarian border crossing to Vienna, and talk to as many of the East German refugees as possible, as well as the Hungarian border guards, police and Customs, and to observe and report what was happening.
Chris Greenwood's account of events provides an insight into the varied and important work carried out by British Embassies. You can download the podcast via iTunes or RSS, or you can listen below.
Published 26 January 2012