World news story
PM wants Summit to secure global commitment to expose, punish and drive out corruption
Prime Minister David Cameron will be hosting a major international Anti-Corruption Summit in London today.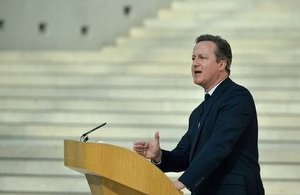 This week, Prime Minister David Cameron is hosting a major international anti-corruption Summit – the first of its kind – aimed at stepping up global action to expose, punish and drive out corruption in all walks of life.
The PM brings together world leaders from countries such as Afghanistan (President Ghani), Colombia (President Santos), Nigeria (President Buhari) and Norway (Prime Minister Solberg) to ensure the Summit kick-starts a truly global movement to defeat corruption.
He wants all those at the Summit to sign up to the first ever global declaration against corruption that would commit them to working together to tackle it, acknowledging that corruption undermines our efforts to end poverty, promote prosperity and defeat terrorism and extremism.
Leaders would pledge to expose corruption wherever it is found, to pursue and punish those who perpetrate, facilitate or are complicit in it, to support communities who have suffered from it, and to ensure it does not fester in government institutions, businesses and communities.
Speaking ahead of the Summit, the Prime Minister said:
"Corruption is an enemy of progress and the root of so many of the world's problems. It destroys jobs and holds back economic growth, traps the poorest in desperate poverty, and undermines our security by pushing people towards extremist groups.
"The battle against corruption will not be won overnight. It will take time, courage and determination to deliver the reforms that are necessary. But we cannot hope to solve the major global challenges we face without tackling the exploitation, fraud and dishonesty at their heart.
"For too long there has been a taboo about tackling this issue head on. The Summit will change that. Together we will push the fight against corruption to the top of the international agenda where it belongs."
The Summit, today,Thursday 12 May at Lancaster House in London, will bring together a unique coalition of governments, businesses, civil society, law enforcement, sports committees and international organisations, who will commit to taking practical steps to tackle corruption and make it a genuine global priority.
A significant number of international businesses are expected at the Summit, alongside organisations such as the Confederation of British Industry, the International Bar Association and the Institute of Directors.
Civil society groups including Transparency International will also play a vital part in the Summit, with the organisation's head, José Ugaz, chairing one of the main sessions on the day.
The Summit will also see campaigners, academics and leading anti-corruption experts contribute to a series of live-streamed panel discussions to debate how we build an even more ambitious agenda to support those fighting corruption around the world.
Major international organisations have been invited, including the UN, World Bank, OECD and the IMF. We are in discussions with the Overseas Territories and Crown Dependencies with major financial centres about their attendance, and expect a number to join the Summit.
The five panel sessions will look at, for example, how the international community can work together to lift the lid on practices that allow the corrupt to act with impunity, ensure justice for those affected, reduce the impact of corruption on global security, and harness new technology, innovation and the energy of the next generation to drive out corruption wherever it exists.
Alongside the PM and other world leaders, panellists are expected to include World Bank President Jim Yong Kim, Transparency International Global Chair José Ugaz, leading author Sarah Chayes, and IMF Managing Director Christine Lagarde.
The Summit will build on the UK's leadership in tackling corruption at home and abroad. Since 2010, the UK government has:
led the way on tackling tax evasion and tax avoidance, bringing in more than £2 billion from offshore tax evaders 1
been the first member of the G20 to establish a public central registry of company beneficial ownership information which will go live in June 2016, and pushed its G7 and G20 partners to do the same 2
secured agreement from the Overseas Territories and Crown Dependencies to provide UK law enforcement and tax agencies with full access to information on the beneficial ownership of companies 3
introduced some of the world's strictest legislation on bribery through the Bribery Act 2010, making it a criminal offence for a company to fail to prevent a bribe being paid 4
co-chaired a UN panel that put tackling corruption at the heart of the new UN Development Goals and transformed the way the international community fights poverty 5
Published 12 May 2016