PM thanks Olympic volunteers, army and police
David Cameron praises 70,000 volunteers working at London 2012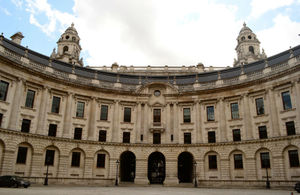 The Prime Minister today thanked Olympics volunteers, members of the Armed Forces, police and others who helped out at London 2012, contributing to the Games' huge success.
Describing them as "the best of Britain", Mr Cameron said:
"These people not only gave up their time, but brought a phenomenal energy and passion to the streets and to Olympic venues up and down the country. So I hope what will stay with the volunteers will be the experience of a lifetime in helping to make London 2012 the monumental success that it was."
After the Paralympic Games conclude, the Government will reward Armed Forces and the Police involved with a commemorative coin to thank them for delivering a safe and secure Olympic Games.
70,000 commemorative Olympic batons will be given to Games Makers by LOCOG, while the Department for Culture, Media and Sport will also give the same baton to the other 18,000 volunteers who worked as London and UK ambassadors and as additional support at the border.
Join in
The Prime Minister is also giving his backing to the 'Join In' campaign - an independent charity, funded by £2.5 million of Government money, which invites those who got involved in the Olympics to volunteer in future, and those people inspired by the Games to take part in sport in their local community.
Mr Cameron said:
"We need to make the most of this magic moment and harness the enthusiasm for sport and for volunteering the Games has generated. That's why the Join In Local Sport project is so important, so that we bring London 2012 back to the place it begins for every great champion: their local sports club and the great volunteers who make it all possible."
Further information
Published 22 August 2012