PM pays tribute to Games volunteers at 'one month to go'
PM marks final milestone by highlighting 'warm welcome' the world can expect at London 2012.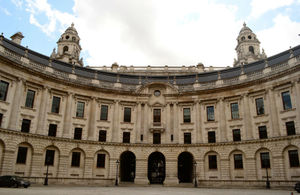 With just one month to go until the opening ceremony of the Olympic Games, the Prime Minister thanked the thousands of volunteers from around the country getting involved in the excitement of 2012 and giving up their time to help make this the best Games ever.
On a visit to the Uniform Distribution and Accreditation Centre (UDAC) in London to mark the 'one month to go' milestone, the Prime Minister paid tribute to the thousands of people playing a vital part towards the success of the Games.
"Give it your all"
Mr Cameron said: "You're not just part of the Games, you will be what makes the Games a success. The people who come to the Games, the visitors, the athletes, the foreign leaders, all those people who come: what you do will make a real difference between a successful Games and an absolutely fantastically successful Games.
"So please give it your all, do everything you can to give people an incredibly warm welcome."
Next month the Opening Ceremony of the London 2012 Olympic Games will take place, and with the help of an army of volunteers, the UK is set to welcome the world.
Culture Secretary Jeremy Hunt joined London Mayor Boris Johnson and LOCOG Chair Seb Coe to mark just 30 days to the Games as a set of Olympic Rings was unveiled on Tower Bridge today.
Further information
Published 28 June 2012