Plymouth accepts honour of hosting 2012 Armed Forces Day national celebrations
Today the city of Plymouth officially accepted the honour of hosting the Armed Forces Day national celebrations for 2012 as the official flag was delivered to the city.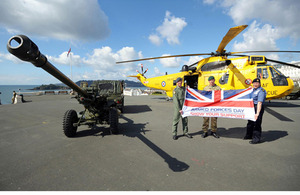 The Lord Mayor of Plymouth, Councillor Peter Brookshaw, accepted the flag on behalf of the city and promised a first class programme of events to honour our forces past and present.
Plymouth will host the national celebrations on Saturday 30 June 2012 in a spectacular event on Plymouth Hoe which will provide a unique opportunity to see the Armed Forces up-close and will feature displays on land and sea and in the air from current personnel, veterans, cadet forces, the Merchant Navy, support agencies and charities.
The event programme, revealed today by organisers Plymouth City Council, will include the opportunity to visit HMS Argyll at anchor in the Sound, a moving Drumhead Service on the Hoe, a parade of Armed Forces past and present, an air show including a Typhoon and historical flights, and an impressive steam past of British naval vessels in Plymouth Sound, and will culminate in a display by the spectacular Red Arrows.
There will also be a packed programme of music and entertainment, including performances from the Military Wives Choir, a cadet band competition, and highlights from the ever-popular 'Music of the Night' event.
Councillor Brookshaw said:
Plymouth is incredibly honoured to have been chosen to host the 2012 national celebrations. The city has an incredibly proud naval heritage and, as home to the Army and Royal Marines as well, the Armed Forces really are at the heart of the city.
The event schedule is shaping up to be something really special and will be a tribute to all of those who serve, as well as all the people, agencies and charities who support them.
Speaking on behalf of the Armed Forces, Commodore Jamie Miller of the Royal Navy said:
We are delighted that Plymouth has been chosen to host the Armed Forces Day national event this year. It has been the culmination of a lot of hard work by local people to get together a fantastic programme of events to celebrate the dedication of the nation's Armed Forces and their families, as well as the many agencies that support them.
The warmth and hospitality Plymouth has shown the Armed Forces, veterans, cadets and families over the years has been outstanding, so it is most fitting that Plymouth takes a lead role in the Armed Forces Day national celebrations for 2012.
The Armed Forces Day national event will be the highlight of Plymouth's Armed Forces Week (25 June to 1 July), and will see visitors from home and abroad join together in the city to honour and celebrate the dedication of our Armed Forces and their families.
This national event has become a regular feature in the British summer calendar, having been held in Edinburgh and Cardiff in the two previous years.
Published 19 April 2012