Planting the seeds for community grown food
How to find space to grow by thinking outside the allotment patch New, simple 'how to' advice to inspire communities to spot a plot of disused…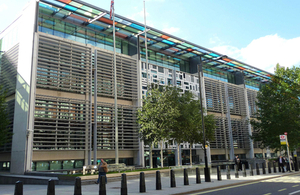 How to find space to grow by thinking outside the allotment patch
New, simple 'how to' advice to inspire communities to spot a plot of disused green spaces in their local area to use for food growing was published today by Communities Secretary Eric Pickles.
A recent survey revealed that nearly two thirds of adults want to grow their own food. Unfortunately it is increasingly difficult as local authority allotments are significantly oversubscribed - with waiting lists over ten times longer than those in 1996.
Today's publication gives local people practical advice on new ways to get access to less conventional sources of land and green space to grow their own food as well as suggestions for wider community involvement, helpful tips on how to get funding and examples of projects already in bloom.
New ways to revive derelict sites and powers to preserve local green spaces for the greater community good are examples of how the Government is helping communities to take greater control of their local area. Measures in the Localism Act such as using new Neighbourhood Planning powers and Community Right to Bid give communities a way to takeover unmaintained public land or badly run allotments themselves.
Eric Pickles said:
The practical advice we have published today can really help plant the seeds of garden growing and turn disused land into thriving green areas for the whole community. With so many people looking to grow their own food there's lots of great tips to help people look outside the allotment and spot a plot in more unconventional places to start community gardens.

Our Localism Act powers can really help all those with budding green fingers to find a way to grow a bumper crop for their family, win at the summer fete or create new community gardens up and down the country.
Environment Secretary, Caroline Spelman said:
This is great news for communities and will allow them to transform local spaces and grow their own fruit and veg. Growing your own food can have huge benefits and I hope that people all over the country will be inspired to get outside and get planting.
Many community groups have already taken action to transform their local areas such as:
The Ebury Bridge Gardening Club in Pimlico, London is run by local residents. Their hard work and efforts have rejuvenated a disused run-down area into a unique award winning community garden for the estate's community.
Stewarts Road Adventure Playground in Lambeth, London was deemed unsafe. With the support of Groundwork London, volunteers revived the area to include a vegetable garden, chicken houses, beehives, pond and relaxation area. What started as a few simple raised beds quickly became a thriving food growing project. The project continues to give to the community with workshops for young people to learn about food growing.
Arkwright Meadows Community Gardens in Nottingham has become an oasis for local residents and other visitors to enjoy after local residents used funding from the Big Lottery Fund to transform a disused playing field. The site is now a thriving part of the local community providing mini-plots for local residents to grow their own food, after-school gardening clubs, and a tyre garden - utilising recycled truck and tractor tyres as raised beds, used by local schools to learn about food growing.
Royal Horticultural Society Community Programmes Manager said:
The RHS knows that community gardening provides untold benefits, boosting people's health and wellbeing and strengthening the ties that bring neighbourhoods together. With more than 5,000 groups involved in the RHS community gardening campaigns, we welcome any steps to help local people transform disused spaces.
Groundwork UK said:
Groundwork has been supporting communities to improve their local environment and their own health and well-being for 30 years. Food growing is an activity which can bring communities together but which can also create skills and nurture enterprise. We know that more and more people want to get active and grow and welcome the additional support and guidance being provided.
Notes to editor
The full set of published documents are available below:
Published 22 August 2012